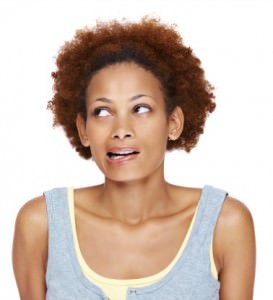 Clothes check, shoes check, nails check, hair double check. Caribbean women take great pride in their appearance; we love to look good. We believe in rocking the latest trends, and personalizing the fiercest styles.
We take it so seriously that we often go to extremes to fit in with fashion fads (like wearing knee high boots with fur and matching winter scarf in scorching summer temperatures).
In Jamaica for instance, each ensemble must be complemented by the perfect hairstyle to match and I do mean match; purple wig* for purple halter, pink and blond extensions* for pink pumps that match pink shorts.
Until recently it would seem that we had never heard the concept of throwing in a little contrast. Now that is what you call ghetto fabulous!
The thrust of natural hair pride is like a fever washing the United States and Europe but the truth about natural hair in the Caribbean is that many of the older women – our mothers, grandmothers and great grandmothers- still perpetuate the insecurities they inherited from our ancestors before them.
The Caribbean is a place of great racial diversity; a melting pot of cultures. To understand how natural hair is viewed in the Caribbean, you would have to take a look back at slavery where colonizers used brute force to spawn what many Caribbean nationals refer to as "brownings" or the "mixed" blacks.
Often they would have "privileges" above the darker blacks put out in the fields, since the brownings were closer to the master's shade and could remain in the main house. This caused a rift among blacks who now envied and despised the mixed blacks.
This still exists, but whether they are envied or despised, those with looser curl patterns, wavy or straight slick hair are still regarded as though they have pedigree. It is totally acceptable and natural for the mixed people, to go natural since they are considered to have the "right type of hair" to go natural.
Even the darker shaded people subscribe to this, so much so that you will be ridiculed as the tough headed or "picky-picky head gal" who takes no pride in her appearance. In St. Lucia someone with afro-textured hair might be termed a negresse (St. Lucian French Kweyol derogatory term for a woman with nappy hair).
In essence, all Caribbean territories have the "little dirty word" used to refer to afro-textured hair. If I dare to venture out to work in an afro adorned by a scarf I will be met with:
"Can't you comb your hair?" or "Why are you letting yourself go like that, do you want me to fix your hair?"
I know, because it has happened quite a few times. If you have a darker skin tone, proper grooming means relaxed strands, braided extensions* or if you insist on sporting your natural texture, twists and corn rows.