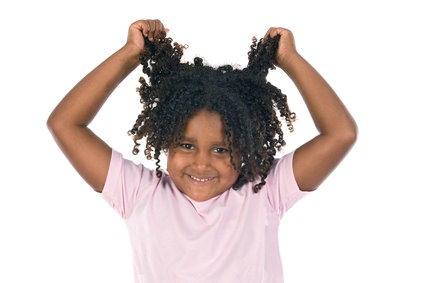 I've been pondering and pondering how to present this article, I could present it as a reader question then proceed to answer it from the heart with empathy and advice as helpful as can be.
Or I could choose to speak my mind with a clear image of things as they are. I chose the latter.
Recently I received this question in my inbox:
I hate my natural, big, thick hair! I need help.

I'm a very, very young girl. Ten. I know, that's really young. I've firmly told my Mum that I don't want relaxed hair.
"Are you sure?" She had asked, and I firmly said, "Yes!" Whilst I still don't, I can't help but feel insecure. My best friend, who is Hispanic, had long, thick, lush, silky black hair. But she cut her hair. It's neck length now!

I have another European friend with long, gorgeous blonde hair, whilst my ugly hair is stuck at a little below collar bone length.
It's grown longer, but I wish I was BORN with long hair. I don't have to do much.

My sister was born with long hair, waist length. But she mistakenly got a perm purposely, and now it's really short. Why can't I inherit my great grandmother's genes, and get long, luscious, glossy hair?

It sucks. I wish my hair would grow! Why did God give me thick kinky* hair that's unmanageable? Why couldn't he give me straight or wavy long hair? 🙁 Please help me.
Now, my first reaction as is probably yours especially if you have natural hair, is to be appalled that someone so young thinks this way of their natural hair.
Your next thought would probably be that you are not at all surprised that this is happening to the current young generation of black girls. After all we are still living with 'European' standards of beauty. Silky hair anyone?
But before being affronted and before we start preaching to this 10 year old child that natural hair is beautiful and that God does not make mistakes and whatever other line that will just compound her cognitive dissonance, lets look at the facts real quick.
Of course there are some things that we the human species are genetically programmed to take note of. A man with strong jaw, broad shoulders and rippling muscles may look attractive to a woman (don't worry I won't go all 50 shades of grey on you!) because we take these physical cues that he is a mate who will protect us and our offspring from the dangers of the natural world.
Although many of us live in cities now where the risk of being eaten by a panther are practically zero, we nevertheless continue to see these traits as attractive.