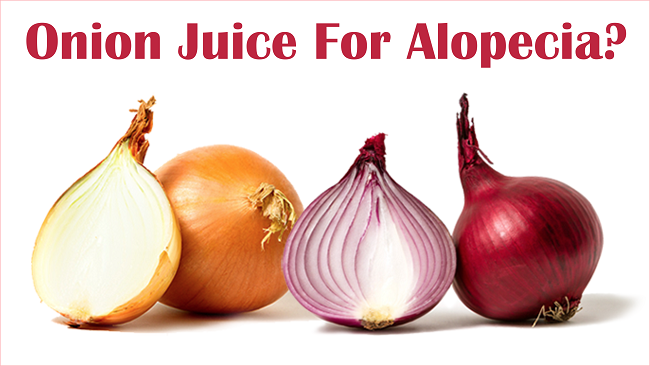 Honestly I really cannot fathom blending an onion, straining it, adding it to my hair and sitting for an hour with a plastic cap as if I didn't just put the other half of the onion into my oxtail dinner.
On the other hand I would also say that I have a high level of sensitivity and understanding for women suffering from alopecia. And truth be told, if I had alopecia I would probably try anything, so bring on the onion!
You see, my mom suffers from alopecia too; hers was brought on from stress trauma early in her life before I was born, but I remember she would try everything to get her hair to grow with not much success.
Needless to say I was very excited to share this with her as I am* to share it with you, so before you chop that whole onion up and add it to something delectable for dinner, save some because you are going to need it for your hair.
Emily what are you talking about, how can an onion help my hair? I thought you would never ask! Let me explain…
Onion juice has been used for centuries to help with thinning hair and grey hair, the juice encourages circulation around the hair follicles which is pretty much what the scalp needs to jump start growth and it has been known to regenerate hair follicles as well.
Additionally the properties of the vegetable are known for killing parasites and germs and some fungi infections all of which can lead to hair loss. The secret is the sulfur*, the mineral is known to encourage hair growth and reverse aging and onion is chalk full of it.
Other foods high in sulfur* include eggs with the yolk, seafood, liver, garlic, broccoli, water cress, and yummy brussels sprouts all known to to improve hair growth and health.
Not Convinced Yet?
Now I know you still aren't convinced and who would be with just a bunch of random facts? Well peep this from the Department of Dermatology and Venereology, a teaching hospital in Iraq:
Alopecia areata is a patchy, non-scarring hair loss condition. Any hair-bearing surface may be involved, and different modalities of treatment have been used to induce hair regrowth.

This study was designed to test the effectiveness of topical crude onion juice in the treatment of patchy alopecia areata in comparison with tap water.

The patients were divided into two groups. The first group [onion juice treated] consisted of 23 patients, 16 males (69.5%) and 7 females (30.5%). Their ages ranged between 5-42 years with a mean of 22.7 years.