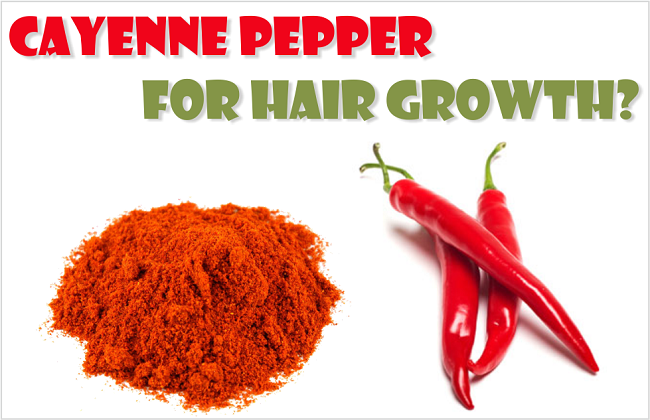 Most of us know cayenne as a food spice, right? It's in our favorite hot sauces and it can be used as a cure for some illnesses. Heck, cayenne pepper is even used as a weight loss supplement.
But what would you do if I told you that some of us are using cayenne pepper as a growth aid. EERRRRRRRR!!! Stop the press… I'm guessing this is probably some of you guys responses huh?
Yes, what I said was what you saw, cayenne pepper has been popping up more and more throughout many hair boards and blogs as a growth aid and we are about to bring you the 411 on cayenne pepper and its contribution to hair growth.
What is Cayenne Pepper?
Cayenne pepper, which also goes by other names such as bird pepper and cow horn pepper, is a red chili powder used mostly to season foods and heal ailments. It is has really high amount of vitamin A* & C and trace amounts of vitamin E*, manganese*, potassium*, vitamin B6, and riboflavin.
While these are very good vitamins* for all of us to have they aren't the reason why that some ladies have been having a huge bang for their buck in regards to hair growth.
Why in the world would one think that Cayenne Pepper would be a good hair growth aid?
Well, actually there is a pretty good and valid reason for why cayenne pepper would be considered as a hair growth aid. Cayenne pepper contains a high amount of something that goes by the name of capsaicin.
Capsaicin is an irritant, yes irritant (doesn't sound pleasant huh?) to humans and animals that is largely found in hot peppers. This is the stuff that causes that burning sensation that makes you want to put two gallons of milk down your throat (almond milk for my vegans out there) to just stop the agonizing pain.
It is also known as a metabolism booster because it produces secondary metabolites which can aid in our go go go nature. Here's the good part in all of this: The irritant nature of capsaicin is actually the biggest reason of why cayenne pepper may work as a growth aid.
When we consume cayenne pepper or apply it to our skin it, the capsaicin that's contained within the pepper causes dilation in our blood vessels. This dilation means that wherever we apply the cayenne pepper, there would be increased blood flow to that area and if we digest cayenne pepper then we experience boosted metabolism. Now I have a feeling that this question coming up may be the next question on your mind…
Rhetorically speaking: If I wanted to use cayenne pepper as a growth aid, how would I use it and how often should I apply it to my head?
Well, from the ladies who have experienced results, such as ladies from Long Hair Care Forum and Black Hair Media Forum, there were two main ways that the cayenne pepper was used as a growth aid.