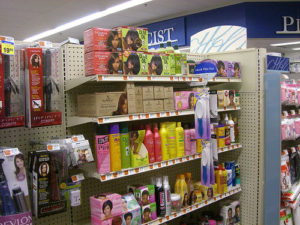 I'm an eighties baby and when I was coming up we never used products that were marketed for Caucasian women.
My mother and I primarily used Queen Helene's, Cream of Nature, DAX grease – the red or blue kind to press my hair, Isoplus products and the infamous Luster's Pink Oil Moisturizer.
As I got a little older, my mom began frequenting a JCPenney salon and they used Paul Mitchell products which were marketed for women of all ethnicities; we began using his Tea Tree* shampoo (I had horrible dandruff) and The Detangler since I had completely virgin hair.
Even though PM had ads featuring women of all backgrounds, it was still primarily thought of as a "white" line so even that was a big step.
When I went to college, I was using primarily Motions – that is when it was the new "it" hair care line. Then soon after (being that I am from New Jersey), I remember when Carol's Daughter and Jane Carter first got hot in the streets.
I shelled out my hard-earned part-time cash on these products, feeling great because I was supporting black owned businesses and the products were touted as all natural. This was my first experience with natural hair care lines and I had nothing but positive things to say about them.
But being the product junkie that I am, I continued to try other products, but I never once went down the "white" aisle in Wal-Mart or the drugstore in search of something new to buy and try.
Then in 2009 my hair journey began. I was introduced to the world of co-washing, moisturizing and sealing, and learned to pay more attention to ingredients than marketing.
I saw women who successfully grew their hair to amazing lengths using Herbal Essences, Aussie, Vo5, Tresemmé, and other lines I would have never even dreamed of using. I jumped right in and picked up a bunch of all of the above! Lol!
Initially, I was excited to have a whole new world open to me. How many of you remember the early days of Herbal Essences? The commercials where the woman would use their products and the scent was so heavenly they were transported from their shower to an exotic paradise?
I would go into the white hair care aisle just so I could smell their products, and then regrettably put them back on the shelf because they were not for "our hair" and sulk off around the corner to the pitiful little ethnic section to shop.