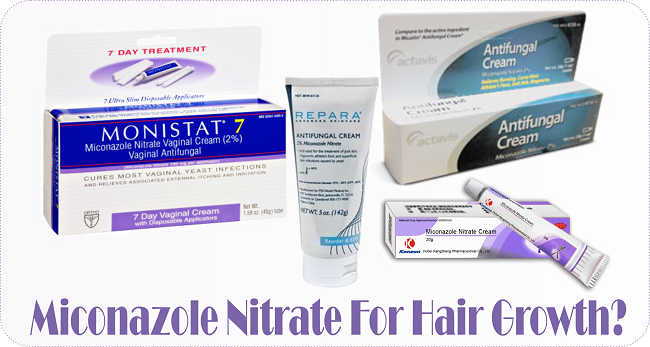 What is the strangest thing you've ever tried for hair growth? In the beginning of my hair journey I was willing to try pretty much anything if it meant added growth. My roommate would give me the side eye every time I came home with a new product.
Maybe it's because I would gush over how this one was "proven to work". It also could have been because I never stuck to just one and she saw the error in my product junkie ways.
Now, in my wiser hair junkie days, I try to reign back the inner product junkie in favor or a more structured hair regimen. However, every now and then I get tempted by the more "out there" hair tips like the inversion method (which I am currently trying) or adding sulfur* into an oil for your scalp (which I have tried).
In my zest for going to extremes I have, however, come across one method that I have not quite talked myself into: the anti-fungal cream miconazole nitrate* (MN). If that name looks familiar to you, it is because you have probably seen it at your local pharmacy, most popularly, in the form of Monistat.
Before you totally write it off keep in mind that it is has been used by plenty of women for hair growth purposes and seems to be perfectly safe. With that being said, the hump to get over is the fact that it is indeed an anti-fungal product that cures issues like ringworm, jock itch and, yes, even vaginal yeast infections.
How Does It Work?
Now if you can get over the fact that MN is in fact vajajay cream, the science behind why it could work to boost your hair growth lies in the active ingredient miconazole nitrate*. Basically, it kills the hair fungus that would normally cause hair loss resulting in added growth.
It's structure is also similar to another anti-fungal agent called ketoconazole which has been shown to block dihydrotestosterone (DHT) the hormone responsible for pattern baldness in both men and women.
The idea is that, just as this anti-fungal cream works to rid fungus in other places of your body it works on the scalp too. It is also said to bring more oxygen to the scalp which helps accelerate the hair growth process.