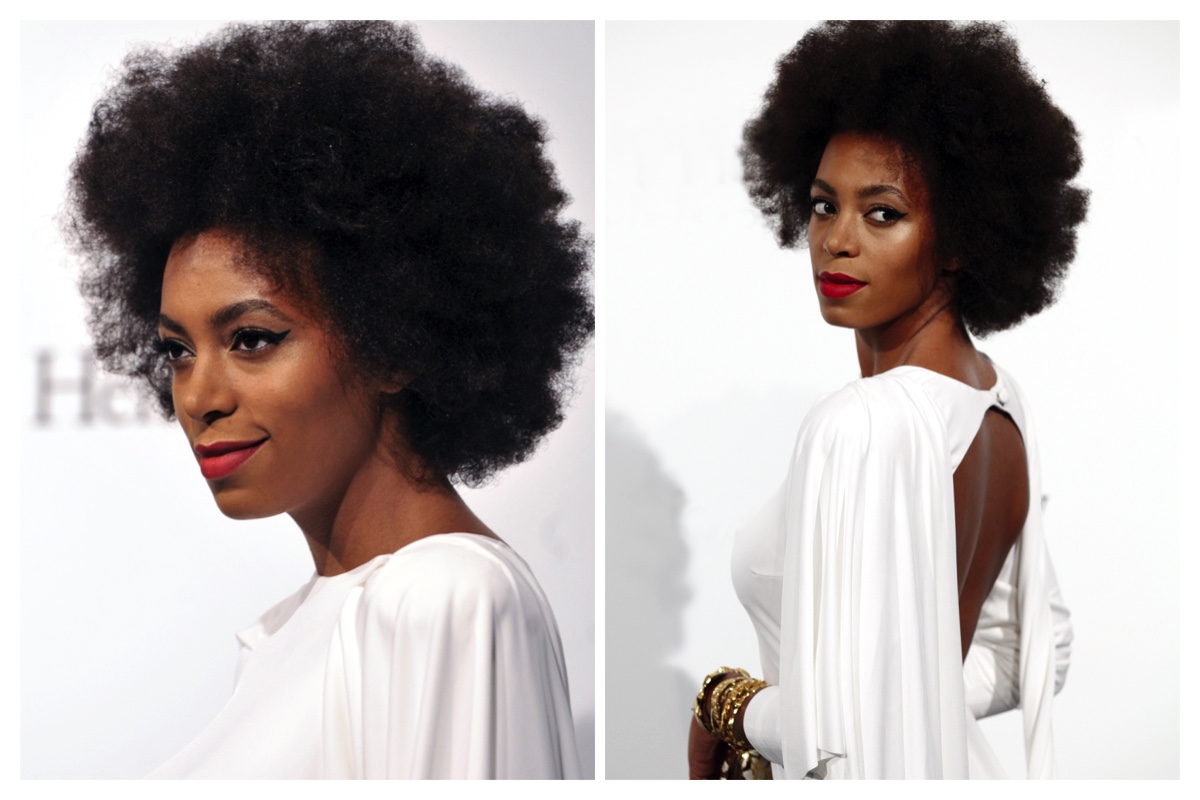 In this interview with Grance Dore Solange Knowles shares her current hair regimen:
My Hair: Carols Daughter Monoi oil shampoo and conditioner.
I also use raw shea butter every day and pure Argon oil when its really dry (so pure, it makes me smell like a basket of nuts).
Once a week I set up a time where I wash and deep condition and very carefully comb out my hair, always starting with the ends first.
Yesterday was that day, and so I literally popped in a dvd (My Week With Marilyn to be exact)…sectioned off my hair with clips, and combed.
I usually sit under a heat cap to penetrate the conditioner and when it's all clean and rinsed, I twist it with two strands of hair into twists.
When I take them out, I shower again …not getting the hair wet, but letting the steam frizz my hair up a bit more.
Occasionally when I am tired of this lengthy regimen , I get braids or wear extensions* in the same texture as my own hair to give myself a break.
Solange gave an interview with Oprah (video) after chopping all her hair off in 2009. I remember thinking 'she's brave' for walking around in a TWA , I transitioned for 18 long months and even now in retrospect, I would not have done it differently!
In the video she talks about how going natural has allowed her to free herself from the bondage that black women put themselves in with hair (weaves & relaxer) and that she was spending $40,000-$50,000 per year on her hair (yipes!).
Oprah herself talks about black hair being an 'ordeal' to look after, I'm not sure I would agree with her choice of words but I can understand it from the perspective of a young person who doesn't know how to look after natural hair suddenly thrust into a situation where they are wondering what to do with their hair every morning.
Judging by her regimen, I'm not sure she has saved herself much time per se by going natural, depending on the styles you choose, natural hair can be every bit as time consuming as relaxed hair if not more. It also sounds a lot like she's fallen off the weave wagon?
I truly believe that as a black woman unless your hair is locked or is constantly in braids, you are never truly free from the bondage of hair. It's just the way it is.
The trick in my experience is choosing hairstyles that last for a week. Buns, ponytails, braid outs or curly sets are great for that. If you only have to deal with your hair once a week (with a 5 minute moisture and seal daily of course), you are well on your way to the semblance of freedom not to mention length retention in the long term!
Solange also shares her fashion and beauty tips so to read the entire interview hop on over to Grace Dore's website.
SaveSave