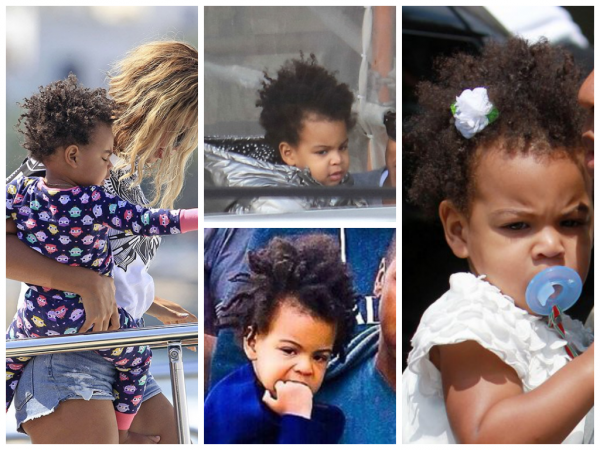 I toyed long and hard about writing this story, because to have a child continuously ridiculed in the media can't be easy. I have a serious aversion to extended discussions about children with any hint of negativity even if it is a celebrity child like Blue. Yet I would be doing a disservice if I didn't bring it to you it so here goes.
Let me be clear on my position, Blue Ivy and her hair are in great hands because she has two parents that love her. Period.
Jasimine Toliver of New York felt she should try to 'save' the child by starting a petition to get her hair combed. According to her, Blue's hair lacks moisture and has matted dreads and lint. For someone to take the time to actually start a petition on a child that does not belong to them is a cry for attention. The sad part is she has done something so outrageous as to guarantee that she gets the attention as major news media outlets pick up the story.
With her best grammar she wrote:
"As a woman who understands the importance of hair care. It's disturbing to watch a child suffering from the lack of hair moisture. The parents of Blue Ivy. Sean Carter AKA Jay-Z and Beyonce has failed at numerous attempts of doing Blue Ivy Hair. This matter has escalated to the child developing matted dreads and lint balls. Please let's get the word out to properly care for Blue Ivy hair."
We think the whole thing is just stupid. We all have opinions I am sure, good and bad and we are all entitled to them. But sometimes we just take it to a whole other level when it comes to other people's kids.
Frankly a petition is not necessary and when a stranger goes to such lengths at humiliation we should stop wondering why most of Blue's pictures do not show her face.
Other celebs had a few things to say as well:
Syleena said:
"She's giving me ODB," – (I suppose she felt that was a nice or cute thing to say)
Keke Palmer:
"Ain't nothing wrong with being natural. I got natural, but you still got to grease natural and comb natural and wash and condition and then you won't have the beadiage,"
Tamar Braxton:
"It just needs some product. That's it. No shade, I have a nephew who has really, really curly hair like this. …It ain't that bad."

Personally we do not condone this sort of thing, hopefully this ridiculous petition goes away fast.

#leaveBlueaivylone