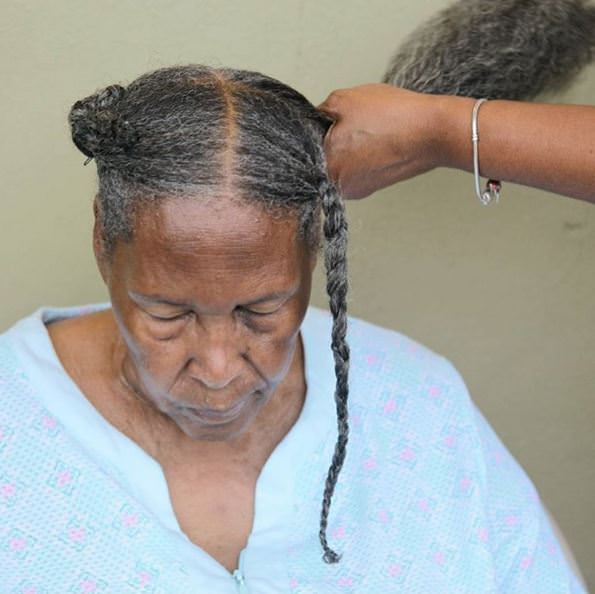 When you look at this picture what do you see? Richard Louissaint is a New York based photographer who shared the above picture of his grandma on his Instagram @Haitianrich.
The picture quickly spread throughout the natural hair community like wild fire. As a matter of fact I saw it on 5 other natural hair Instagram pages that I personally follow before I even heard of Richard Louissaint.
There was no question about why the picture was so popular, on the surface it is just a woman getting her hair done by someone much younger than she is.
Below the surface there is so much more to it. My Grandmother did not look like his grandmother but her hair was similar to hers, it was long and thick and always protected. I remember being very young and thinking, I wish she would let me brush her hair, I just knew I could handle it all and give her a great style.
The day she let me touch it and play in it I was in awe, it was so soft, but I never saw her take care of it. I wasnt around for her wash day and I do not ever remember seeing a cabinet filled with hair products like the one I have now. She had a few things scattered on her dresser, she had a very soft bristle brush and oil, that's all I remember.
When she finally let me play in it I remember her being detangled, and it had oil in it, a ton of oil. It also had a smell, a good smell, just like what grandma's always smelled like when you hugged them or they hugged you. I knew her hair was long but I was shocked at just how long it was. The color was the same as the lady in the picture, black and gray, now fully gray but still super soft and super long.
I loved when my grandma put her hair in a bun, a nice slicked back bun with her little diamond hair clips and church hat, it was classic and it was beautiful.
Then during the week she would have it braided and covered, putting away they mystery of her hair until Sunday came around again.
I suppose that is the essence behind the picture, it brings back a ton of memories it makes you want to go give your grandmother a hug and kiss for being so special.
In addition to that beautiful photo Richard Louissaint takes pictures of all aspects of Haitian culture, documenting it on his website and on social media. Check out his work here.