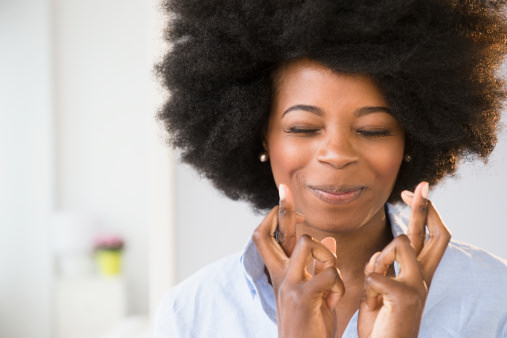 I just finished up a really good book: Hair Story: Untangling The Roots of Black Hair In America by Ayana D. Byrd and Lori L. Tharps. The history and culture in this book is so rich, and it is all about the evolution of black hair from bondage and politics to black hair becoming acceptable in the present day. When reading this book, I made a few marks to go back and re-read for clarity.
One of the marks I made in my book was next to the title, "A Helping of Good Old-Fashioned Black Hair Superstitions" and I thought, "Do people still believe in those?" I mean, my family does believe in certain superstitions like: on New Year's Eve a man walks through the door first to ensure the man leads, opening an umbrella in the house will cause bad fortune to "rain on you," we say "knock on wood" after a hopeful statement, and cross your fingers for good luck.
As for hair superstitions, I don't believe in them, I knew and heard of a few. However, this list of superstitions from Hair Story gave me a range of emotions from "I can understand that" to "That is way too absurd and delusional to me."
Check out this list:
1. Always burn the hair in your brush or someone could use it to put a hex on you.
2. Never comb, brush, or cut your hair outside because if a bird comes and collects a stray lock for its nest you will:
►Feel it pecking at your head.
►Get headaches.
►Lose your mind.
►Suffer the same fate as the bird's babies.
3. Always wear your hair covered when menstruating.
4. If you allow more than one person to work on your hair at a time:
►Your hair will fall out.
►The youngest worker/helper will die.
5, Don't let a pregnant woman do your hair, or you'll become pregnant too.
6. After someone finishes working on your hair, it's bad luck to say thank you. Instead say "More hair."