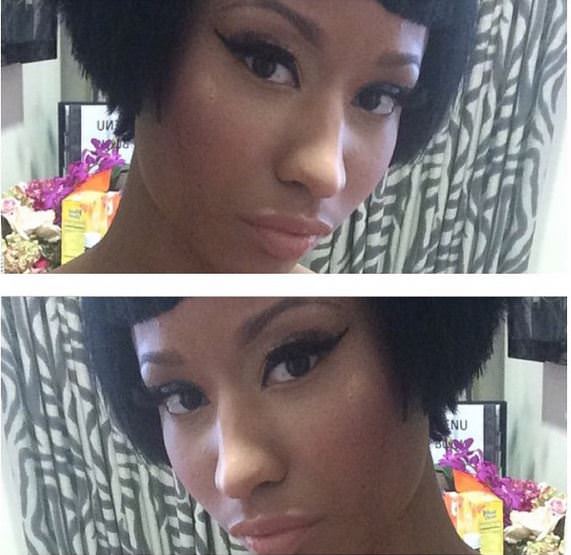 It must be something in the water, because just yesterday we told you about Cynthia Bailey's new cut that we were all loving, and today we decided to share Nicki Minaj's bob. Nicki has been on Instagram trying to get some shine with her new hair cut which gives her a sightly different look from everything she has done in the past. The 31 year old rapper did kind of a blunt bob cut that is super short, that might be a wig* – but with these celebrities, you can never tell.
Personally, I love Nicki with long hair; this cut, though cute, is too blunt for my taste – but some of you might beg to defer. Her stylist, the one and only Oscar James, uploaded a photo of his work on his Instagram pictured above, which sort of gave an idea of the style. I would have hoped that he showed us more of the look instead of just face.
But maybe they are trying to unveil the full look at some other point, and did not want to give it all away on Instagram – who knows? Nicki's picture was sort of the same; it showed way more cleavage than it did hair, which had her followers wondering about her intentions.
Either way,,her hair is nothing in comparison to the looks she used to do with the crazy colors; this is still the toned down Nicki, which many of us seem to prefer. Below is her picture:
Nicki, captioned the photo with:
"Thx 4 my makeup Uzo short bob by Oscar bra by my crazy "mother" Rushka #ItsASecret"
It is kind of hard to focus on the bob with that selfie, but as she said, it wasn't all about the bob – her bra and makeup were part of the advertisement as well. Comment below, and let us know if you are feeling Nicki's bob from what you see of it. Do you think she should go shorter? Wouldn't it be cool to see her rock a Pixie?