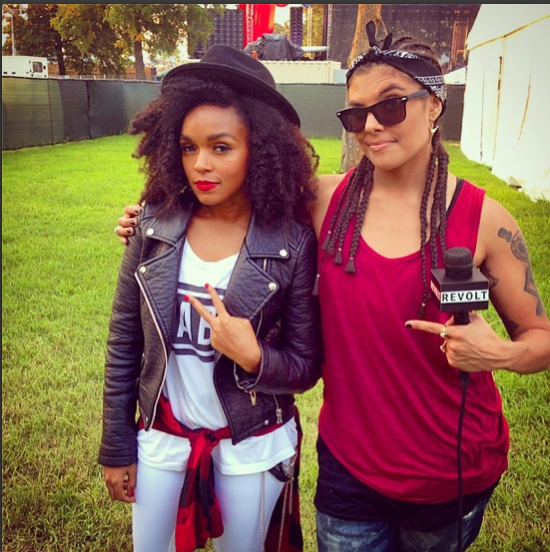 We have seen Janelle Monae with her signature updo's but never have we ever seen her with a twist out or in fact seen her sporting her loose natural hair at all. Well she did just that after a concert at a festival in Tennessee where she took a few pictures showing off her natural tresses and we are totally feeling the style.
We remember way back when in 2013 when Janelle stepped out with wavy hair in the Dance Apocalyptic video and the style caused a ton of criticism and a bit of drama. She was called out for buckling under the pressure of fame leaving her signature pompadour for a long 'weave' typical of the music industry.
Hey we are huge Janelle supporters and there is nothing wrong with someone trying to switch there style up every now and then. This is why we can never say its just hair because we attach all kinds of meaning to it and for Janelle fans it was pompadour or die. We are glad the hoopla calmed down and Janelle didn't even address it, which in our experience really never makes much difference with fans who think they are right 😉
If anything we see how versatile natural hair can be, you can have a pompadour one day, a straight style the next day, a weave or a wig* or a fabulous twist out, you pick your poison.
Wouldn't it be cool to get the 411 on her favorite products? Her hair does not look weighed down the least bit so it would be interesting to find out. Comment below and let us know what you think about her new do? Should she rock her loose natural hair more often or are we ok with the every now an then?
I know personally I am ok with the "every now and then" sound off!