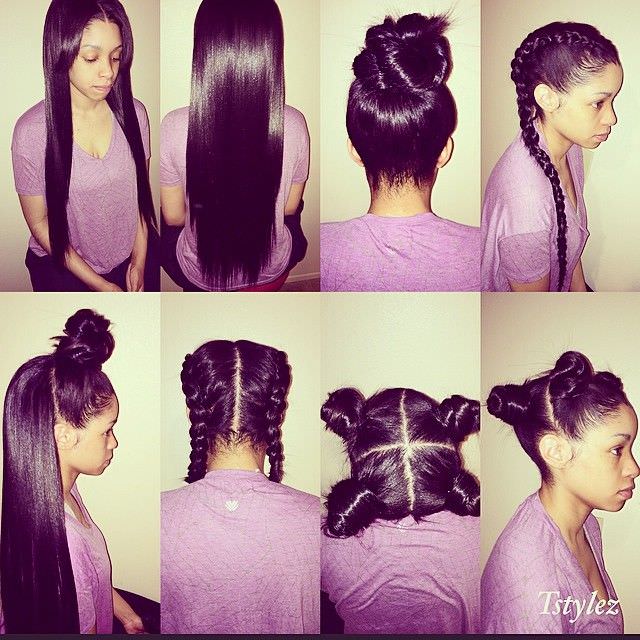 Imagine having a sew-in that you can part down the middle and sides. A sew in that you can wear a half up or half down style with. And heck , if you feel like it, a sew in that you can do the 80s side ponytail with for the ultimate 80's party.
This "magical" weave install that I speak of is not one that requires you to go to the end of the earth to find, actually, you can find it right on YouTube using a smart phone. This weave technique I am rambling about is called the "Vixen Sew In".
Even though I am not a weave type of girl, this sew in technique made me a beweaver; like what I did there? Now I've seen many videos online about how to do the Vixen Sew In, and I was able to stumble upon two great tutorials on how to do this technique on both natural and relaxed hair.
For the natural ladies, YouTuber MsAmberGlamour shows how she does the Vixen Sew In on natural hair (through a self-install) and YouTuber CornFlakes NoSugar demonstrates the Vixen Sew In on relaxed hair (using another model, not herself). If you want to learn more about this versatile and natural sew in technique, keep on reading!
The Vixen Sew In on Natural Hair
In this tutorial, MsAmberGlamour shows us how to do the Vixen Sew In for natural hair with a curly weave. Before she braids her hair, she blow dries her natural hair straight. Now, you do not have to blowdry your hair if you want to avoid heat.
You can easily stretch your hair with many methods via Braids, Twists, Bantu Knots, Banding etc. It would also be a good idea to really condition your hair before you do the sew in; this will prevent you from having to do too much manipulation and ensure that your hair is healthy before and after the install.
Things You Will Need
1. 2-4 Bundles* of Weave of Your Choice- For natural hair, it will probably be a good idea to use a curly or kinky* weave so that there will be no need to apply heat to your leave out. Good quality, human hair will be the best choice for a long-lasting, natural looking sew in.
2. Weaving Net- To apply over braided sections and protect and flatten the hair hair for easier sewing.
3. Needle and Thread- To sew in the tracks.
Here is MsAmberGlamour working her magic with the Vixen Sew In!