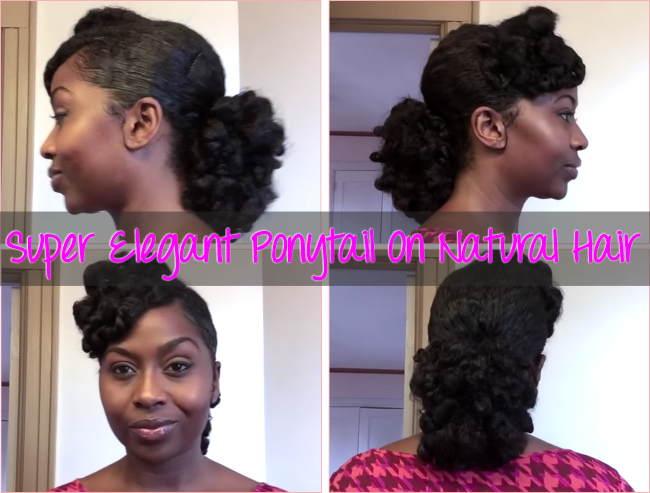 So I am so excited to share this tutorial with you guys. No it's not a bun, or a fancy updo, or a twist style. It's a ponytail. Now before you guys ask "What is so interesting about a ponytail? Well, I'm gonna tell ya! Now this is not just any ponytail, it is a super elegant one.
This hairstyle is a great hairstyle for someone who wants to take a break from protective styles, but still want have a no fuss, pretty hairstyle. Here, YouTuber Carib Curls shows us how she achieves her gorgeous and elegant ponytail on natural hair. This is also a great hairstyle for a professional setting and weddings as well.
Items Used To Achieve This Hairstyle
Moisturizer- In this tutorial, Carib Curls uses Cantu Coconut* Curling Cream (which is pretty good!), but you can also use any moisturizer that you may have in your product stash.
Oil– Jamaican Castor Oil* with Almond oil* is used here but you can use any that you prefer.
Hair Clips– To separate your hair into sections for easier styling.
Flexi Rods*- To curl ends of twists for a twist n curl effect.
Detangling Tool– A comb, detangling brush, or fingers can be used to detangle your hair and of course if your hair is already detangled, then there's no need for extra detanglng :).
Ponytail Holder– To create the elegant ponytail.
Bobby Pins*– To create the bang in the front.
Length Needed To Achieve This Style
This style works best on hair that is medium to long or longer. Ladies with shorter lengths can possibly make this hairstyle an elegant puff. This style is also done on stretched hair. You can stretch your hair via African threading, braids, bantu knots, twists, etc. Ladies that have transitioning and relaxed hair can achieve this hairstyle as well.
In the video below, Carib Curls shows us how she achieves her Elegant Ponytail!