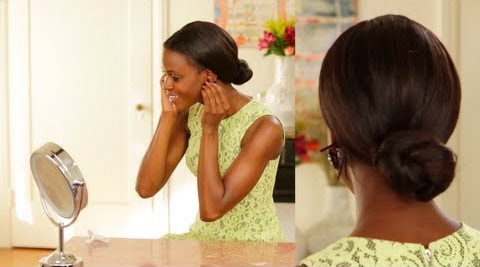 Yesterday we showed you a video demonstrating the classic French Roll on Natural hair, today we have another classic French style called the French Chignon, and its basically a twisted bun. This style looks great on straight hair, but if you are rocking your natural texture and you want to an easy way to do a bun we challenge you to try it as well.
The video below provides a clear demonstration of the style which is the low bun version of the style. Now don't think you have to do a low bun, if a low bun isn't your fancy we have some alternatives here are three versions to the chignon you can try:
1. High bun – Gather your hair into a high ponytail and secure with a goody band. Separate your loose hair in two and tie them loosely into a knot. Twist and wrap one section around the base of your ponytail and do the same with the other section, pin and go! Oh and If you have shorter hair you can always use some added hair to get the look.
2. Side chignon – This can be a lose messy version of the bun, just gather your hair off center leaving out a few pieces on the opposite side for flare. Follow the same steps in the video for the bun just on the side of your head. This style is best if your hair has some curls in it, for example a bantu knot out or curls using a curling wand* for the loose hair.
3. Pompadour and chignon – If you want a retro look separate your hair into two halves, using the top half to create the pompadour and the second half for the bun. Use as much hair as you need to create the pompadour in the front, pin and tuck the ends. For the back portion follow the steps in the video for a low bun.
Now enjoy the video :