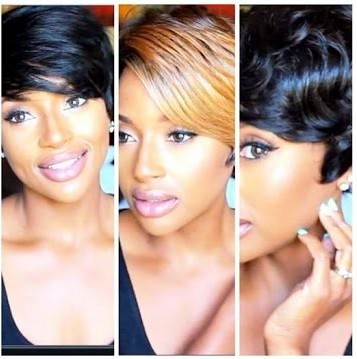 Ladies are you planning to protective style this Summer? If you are, have you ever tried a short wig? I was watching Myinvisible Chrysalis the other day and she did 3 wig reviews in one video and honestly the wigs* were totally cute.
Here is why I would consider a short wig this Summer:
1. The weather – If the heat I felt today is any indication of what July is going to feel like, I will need a back up plan that does not involve big, long flowing hair.
2. Low maintenance – This is a simple one, short wigs are low maintenance and I am all for that during the summer months.
3. They look amazing – The third reason is based purely on how they look, they are so cute and if you are not trying to cut or straighten your hair you can have both of those things all at once in one wig.
We are always looking at short hair cuts, and we have even shared a couple galleries with you guys of cuts we are loving. A short wig* is a great way to live the dream without the commitment of actually cutting and maintaining a short style.
In the video you will see Myinvisable Chrysalis try on three styles each of them unique in their own right. I really loved the fit of the wigs* which is super important when you are picking a protective style.
The wigs lay flat and there is little to no alterations required, except for just adjusting the hair to your liking. Literally you could just put the wig* on and go, which is my idea of easy.
If you plan to protective style using wigs this Summer, short wigs might be a great option. Just ensure that your hair is moisturized, detangled and braided flat. Check out the video and do not forget to comment below and let us know what you think.