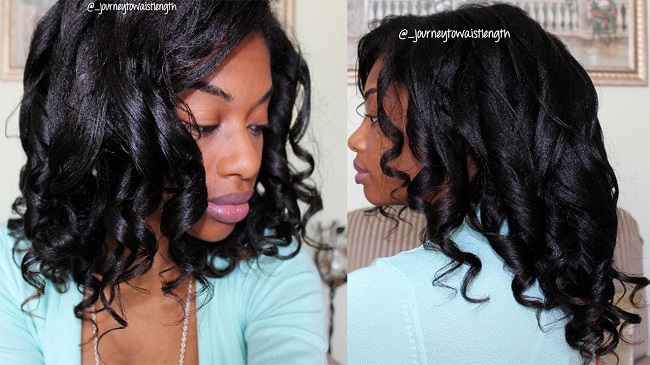 When you are on a relaxer stretch, one of the things that women find challenging is blending there kinky* curly natural roots with their straight relaxed hair. There are a couple of common styles you can use to do this, for example braid outs, twist outs, roller sets, all of which are really great but not quite what this post is about.
In this post our girl from Journey to Waist length shows us how she uses curlformers on a relaxer stretch. Curlformers can be a dream come true if you need a heatless style and you want consistent curls that blends both textures easily and hassle free.
Here are 5 things we love about curlformers*:
1. They are light weight – Typically if you have very thick hair you will end up with a lot of rollers on your head, which means that you will need to be somewhat comfortable sleeping with them. These rollers are made to facilitate that.
2 The style is uniform – As I mentioned before the curls you get will be consistent, they will fall in the same direction which is a plus but even better than that, your relaxed hair will blend well with your natural hair in the final look.
3. You can air dry – Obviously if you use a overhead dryer or hand held dryer, the drying time is faster however the mesh allows for air drying overnight too.
4. The kit gives you a ton of options – The product tries to give us a few options for styling, they have sizes ranging from short an wide rollers to extra long and wide so you can pick the perfect curl size for you.
5. Easy to use – Curlformers* get easy once you 'get it' there is a bit of a learning curve when it comes to installation however once you get the hang of it, we guarantee you will be using them all the time.
If you have relaxed hair, give curlformers a try whether you are stretching or just on a no heat challenge they might prove to be a very viable styling option. Well its time for the demonstration, take a look at the below video by JourneyTo WaistLength: