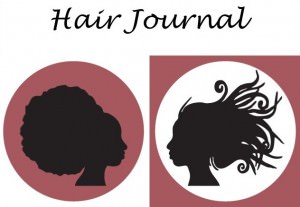 About a month ago I was complaining about social media as I listed all of the many platforms I have signed up for on my blog. Sometimes I wonder where do we find the time to do all that we do on the internet ? I swear if they create another social media outlet I am going to scream (while I register for it and add the password to my ever growing list).
Oddly enough I do not have the same aversions to apps on my iPhone as I do social media, I will try an app at least once and if it doesn't wow me in the moment, it will be deleted. My latest app is related to hair, its an app that actually helps you to document your hair journey, appropriately called 'Hair journal' . It was my first time seeing an App related to hair that was not an interactive forum, so this piqued my interest and was worth at least a review.
When you first open the app you are greeted with an awesome graphic and then taken to the profile page. You create a profile for yourself that includes your profile name, your hair style, your big chop date, your hair type, your hair goal and measurements. You can add a picture to your profile making it unique to you and also it provides the opportunity for you to create other profiles that might track other aspects of your hair journey. For example if you wanted to track and document someone else's journey or if you are transitioning you might have a profile just geared towards that.
What I liked
The versatility of creating profiles is pretty awesome because a journey isn't quite as fluid as we would like sometimes and at different stages our needs are so different it would help to have an entire section dedicated to specific stages.
What I didn't like
I did not quite understand what it meant by 'hair style' so for that section I just put 'Natural'. If I had relaxed hair I probably would have written 'relaxed' and chosen straight for my hair type. It is plainly obvious that the app is geared towards women with natural hair based on the criteria in the profile, if I had any reservations about that section of the App I would say that it probably should have been more inclusive of other hair options such as relaxed or texturized hair.