Silicones are a somewhat controversial subject when it comes to hair care. Because of their ability to coat the hair strands and reflect rather than absorb heat, they are used extensively in thermal protectants and anti-frizz styling products.
Most silicones are notoriously water insoluble which means that they have the potential to increase build up in your hair and scalp. Build up, even when the hair is clean is characterized by hair that doesn't seem to respond to hair products properly any more, particularly if these products worked fine beforehand.
You will find that by and large, a sulfate containing shampoo will be required to completely remove silicone residue from the hair. In practical terms what this means is that you should never have a sulfate free, silicone heavy regimen. If you want to do away will sulfates, you will have to do away with cones too!
There are those in the hair community who advise completely avoiding silicones for the health of your hair but if you plan to use heat in your regimen, you will be hard pressed to find decent heat protectant* that doesn't contain at least one 'cone.
Here are 6 really good silicone free products.
1. L'Oreal Paris EverSleek, Humidity Defying Leave-In Crème
If you have looser 3 type curls, use this after your wash to keep frizz away and repel humidity for up to 48 hours.
2. MOP Glisten High Shine Pomade
This non greasy pomade will help provide shine for updos and shorter styles.
3. L'Oreal Paris EverSleek Frizz Taming Crème Serum
This product will leave you hair soft and smooth without feeling coated while providing excellent frizz protection for your curls.
4. Beyond The Zone Turn Up The Heat Protection Spray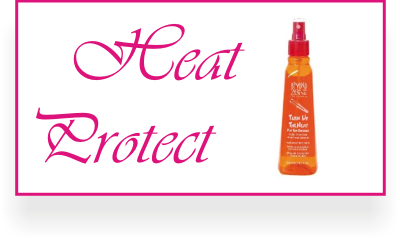 This spray provides excellent slip so your flat iron* will glide through your hair effortlessly for a silky result.
5. Jane Carter Solution Revitalizing Leave-In Conditioner
This works great for re-hydrating dry locks and you can use it as a heat protectant* too.
6. Mizani Supreme Oil Silicone & Mineral Oil Free
This wonderful blend of oils* including jojoba*, argan and avocado can be used for a variety of purposes including pre shampoo treatments to sealing moisture into hair.