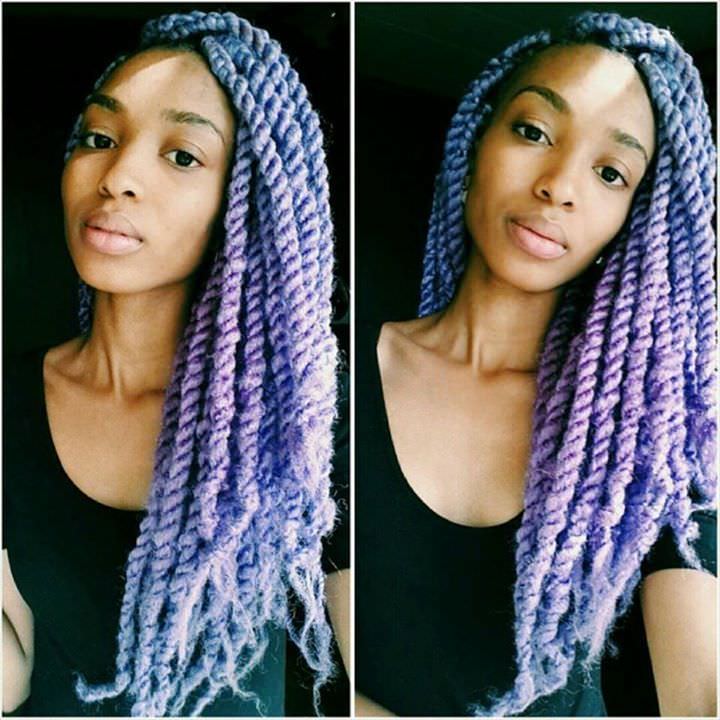 Spring is almost upon us! That means it's time for sunshine, cut off shorts, and brighter colors. If you've been looking into protective styling with synthetic hair like box braids, Senegalese or Havana twists, crochet braids, etc, and you'd like the add some color, this DIY might be perfect for you! Keep reading to find out how to ombre your extension hair yourself:
What You Need:
Acrylic Ink
Rubbing Alcohol
Spray Bottles (number depends on how many colors you'll be using)
Rubber Gloves
Brush
Towel/Plastic bag (or surface to work on)
packs of hair (either gray or #613, which is a white color)
What to Do:
1. Begin by combining the acrylic ink and rubbing alcohol together in a spray bottle. Acrylic ink can be found at most craft stores like Michael's. If you'd like a customized color, you can buy a few different shades and put them together in the bottle. Make sure to shake so it has an even consistency.
2. Place the extension hair onto the plastic sheet or towel and begin to spray with the mix. It's best to buy a light pack of extension hair so that your colors will be more vibrant, but you should still be able to use black hair if that's what you have.
Place the color combination on your hair as you'd like to create the ombre effect. Put color above another, and brush the hair out on both sides to make sure that it's been evenly distributed, it colors each strand, and it blends the ombre better.
3. Let the color dry overnight, or blow dry the hair if you're short on time. Afterwards, place the hair in water and rinse it until the water runs clear. This way the color will last but it won't become a huge mess in your hands or on your clothes.
Let the hair air dry again. You're done!
The fun part about coloring synthetic hair is that it's so cheap, and the possibilities are almost endless. You can play around with color combination, do ombre, or dye all of the hair one color. The choice is up to you, but you will definitely have unique hair!