A review of the Instyler on 4a natural black hair
A big reason why a lot of you insist on going to see a stylist every week to have your hair done is because of the age old complaint 'I can never get my hair straight enough on my own'. I admit that it takes a certain amount of dexterity and technique to achieve real smoothness at home. The 'comb-chase' method is the favorite way us home stylers get the salon polished look at home. You run a fine tooth comb or brush down the section of hair using one hand while 'chasing' with the flat iron held in the other hand.
Since I can use both hands at once, this has never been a big problem for me but having seen friends and family members struggle with the very idea of it, I understand that it's a skill a lot of us will probably never master. With the multitude of youtube videos showing the Instyler in action, right off the bat it seems to have all the answers. Brush and flat iron conveniently packaged to hold in one hand? I decided to test it for myself to see if it lives up to the hype. So what is the Instyler? According to it's manufacturers:
It's not a brush. It's not a flat iron. It's not a curling iron. It's the InStyler® rotating hot iron!

The InStyler® rotating hot iron is a totally new styling and straightening tool unlike any hair styling product ever invented!
First impressions, it's a good looking bit of kit all shiny out of the box; basically a combination of a curling iron*, round brush and flat iron! It's not noticeably heavier than a regular flat iron although it does feel bulkier than the sleek, streamlined flat iron models we see these days.
The instyler comes with a DVD that I strongly encourage you to watch. It is made up of a few clips of a stylist showing how to use it on different hair types and for different effects like normal straightening, feather curling, barrel curls, increasing volume at the roots etc.
The Instyler has 3 temperature settings, triple bar (385°F/196°C), double bar (315°F/157°C) and single bar (284°F/140°C). Usually I would not be happy if I couldn't pick my temperature within 10 degrees but to be honest, the higher temperature is what I generally use when I want super straight hair and the medium temperature is smack bang in the range of safe temperatures for weekly styling so not really a problem.
Now one annoying thing with this styler is the heat up time. I am used to my flat irons taking 30 seconds to heat up but with a 1 1/4 inch diameter barrel to bring up to temperature, it's no surprise that it takes 60 seconds. Not excessive by any stretch of the imagination but hey, I am a bit anal-retentive! For full specs click here but moving on to the juicy bits, how did it do on my 4a hair?
After a wash and deep condition, I blow dried all but 1 section of my hair which was braided and left to air dry overnight. Why did you bother to blowdry? I hear you ask. You will soon find out! It is advised that you use as little product as possible when using the Instyler so I opted for a silicone heat protectant* serum.
For the section that I air dried in a braid here are the results: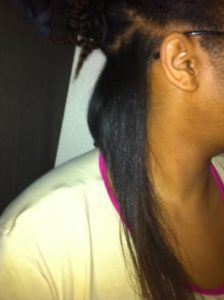 Great job in getting smoothness and it looks a lot like this promo image below doesn't it?
With images like these floating around the internet it's no wonder that I was seduced with the distinct possibility that our blow dryer's days were numbered. But a word to the wise, I would never recommend that you use any styler on dry 3c, 4a or 4b hair. I had 7 broken hairs in that section alone! Is this a problem with the Instyler? Not at all, I've had the same results in the past using a comb, brush even my fingers on my dry hair! You will notice that in the dvd they use an African American lady with wavy but frizzy 3a-3b hair.
It all comes down to the complete abhorrence of our hair to being manipulated when it is dry and curly, period. I knew this from years ago when I began my hair journey so I had, quite rightly, done the necessary prep work on the rest of my hair by blow drying it straight beforehand. Sorry ladies, a good blow dry on damp hair remains the pillar on which any straight hair regimen is built so don't kick your blow dryers* to the curb quite yet!
I completed the job in record time, even for a pro like myself who is accustomed to using both hands when straightening, being able to straighten with just one hand was a revelation! Added to the fact that because of the even heat distribution of the rotating cylinder, I found that I only had to go through each section once. I am also happy to report that I only had 1 broken hair styling the remainder of my hair. Very impressive considering that I usually get 5 or so when I use the comb chase method!
Just to show you the versatility of this styler, I have pictures below of my hair straightened with both medium heat and high heat. Below I used only a silicone serum on medium heat:
And below is a different week and I used some coconut oil and straightened on high heat:
Of course you can't tell from the pictures but I loved the 'flowyness' of my hair when I used only serum, seriously my hair was bouncing around and swinging with every movement and gust of wind! Having said that, you can't beat the shine of coconut oil. So the following week I decided to try using coconut oil on medium heat only. The results were outstanding!
As you can see, there is virtually no difference between using medium or high heat if you use the right products, in my case coconut oil*! On balance, I would suggest that you use the medium temperature for your week to week regimens. If you are natural like myself, coconut oil works a treat in preventing reversion too so you can't go wrong.
Nothing like a good ole fashioned pros and cons list!
CONS OF THE INSTYLER
It's difficult to ignore the barrel section which is completely exposed so I can imagine that it would be very easy to burn yourself if you are not careful. The Instyler however comes with a heat guard that you can clip on if you are particularly worried. I didn't use it and I didn't burn myself but you results may vary!
If you use coconut oil* to straighten, the bristles will get a bit coated so you will have to give it a good wipe down after using but this is true of all straighteners.
Some people have a problem getting the roots straight so you may have to use the hot comb trick (You brush the hot barrel over the roots while holding the hair taut. I didn't really have this problem as I was able to get the styler quite close to my scalp.
PROS OF THE INSTYLER
Bristles, brush and curling iron* all in one, genius idea!
With the bristles you will likely only need to swipe your section of hair once so same straightness with less heat.
You can straighten, curl and create volume much easier than with a flat iron
Unlike a flat iron which creates a dent if you begin to iron from mid shaft, because of the rotating barrel, you don have this problem with the Instyler. So if you notice that you didn't get your ends completely straight, you can go over them again without having to start from the roots.
Faster styling time. Unless you are looking for itty bitty curls that can only be achieved with a little curling wand* then you will be able to get all the usual suspects (barrel curls, waves, feathering, bumped ends etc) from the Instyler.
For me, less breakage than my regular 'comb chase' flat ironing method.
I also thought it was a nice touch to provide a DVD which was invaluable at the beginning in learning how to hold it and how to achieve the different effects.
To summarise, I think that the Instyler is certainly one of the best straighteners around. It is essentially a modern day hot comb, only better. You may not need it if you are adept at using both hands and already have an adequate flat iron but if you are a only able to use your strongest hand, you are a beginner wanting to styling your own hair or you just want an easier life then you should definitely check out the Instyler.