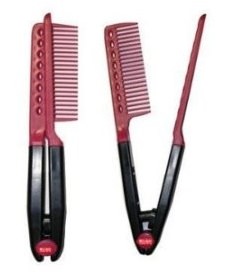 Benefits of the Comb Chase Method
It is touted as the gentler method for straightening your fragile hair, since this method allows you to limit the amount of heat you apply to the hair, which in turn will mitigate the extent of the damage that may be caused as a result of direct heat.
It also lessens frizz, which prevents your ends from looking raggedy. Reportedly, if you use this method you can achieve straight hair with as little as a single pass.
Some curlies are also able to cut out the blow drying phase entirely, from the prep stage which eliminates both the extra heat and the time consuming step from your styling routine.
With this method, the comb lifts the strands and isolates them so that heat can penetrate faster and simultaneously the tension applied by the comb stretches your curls and kinks allowing you to straighten better at a lower temparature.
The additional ventilation provided by the comb also eliminates the burnt hair smell from your hair, something that should never be taken lightly.
It's also a plus that the method prevents you from burning your fingers as is likely when trying to hang on to the tip of your ends to get the very last inch straight with the traditional method!
Possible Drawbacks?
1. In spite of the benefits of using the comb chase method some ladies complain that the fine teeth of the comb used causes them to lose some hair to breakage or have hair pulled from the root even though a detangle and blow dry had been done beforehand.
2. If you are not ambidextrous it can be quite cumbersome trying to coordinate your movements to get the process right, which could eat away at your precious time. This might also result in you leaving the iron in one spot for too long, thus risking heat damage in some parts which would certainly defeat the purpose of using this method.
3. Also, since some hair types simply cannot get a good result without blow drying first, the idea of using that much heat in one go may be more than some of you might be willing to endure. Personally, though heat protectant is used, I find that it still unnerves me to tolerate that much heat on my hair.
Bottom Line
If you are new to a healthy hair journey, you might want to experiment a little to find out how your hair responds to heat before employing the comb chase method just to be sure you don't happen to be among those who experience unwanted effects.
Further it would be advisable to get a high quality seamless comb to use on your hair. They are slightly more expensive than standard combs but without the seams snagging your hair and causing breakage, they are well worth it!
Ultimately, you will be the one to decide what is best for you.
So, as it relates to the comb chase method what are your thoughts? Is it a go, or a no?
Originally posted 2013-10-11 15:00:23.