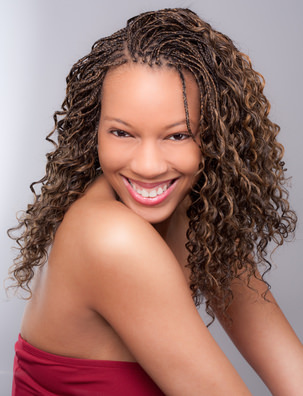 Before my healthy hair days, the days when I didn't know that deep conditioning* existed, I decided to get braid extensions* in hopes that they would magically help my overly processed barely neck length hair "grow" (not retain length), notice how I cared less about health… health whaaaat?
Anyway, when I finally got them installed on my unhealthy hair here was my…ahem…"regimen":
Keep them in for three months sometimes four.
Clean them once within those three months (this was usually the day before I got them redone).
No moisturizing and conditioning allowed.
Let the braids around my edges hang on for dear life.
On top of that I did not give my hair a break and got the braids installed back to back without even allowing my hair to sigh.
Needless to say that after a year, my hair was barely an inch past neck length and within a month went straight back to being neck length again.
These days we know that with a great hair regimen, braids are an excellent protective styling choice that allow your hair to retain length like crazy and finally make your long hair dreams a reality.
So with that said ladies here are 10 tips to help both the natural and relaxed among you get the opposite results of what you have just read above:
1. Do your research on the braid style that you want to achieve
Whether you want tree braids or poetic justice braids or micro braids, it is important to look up the pros and cons of the braid style that you want to see if it fits your lifestyle and hair goals.
This step, in my opinion, allows for you to be equipped with info about your braid style and confident that your choice will not affect the health of your hair.
2. Make sure that your hair is locked and loaded (with health that is) prior to getting braids
While it is super important to take care of your hair while in braids, it is even more important to make sure that your hair is spic and span before your installment.
If your elasticity is nonexistent and your porosity is off, make sure to address these issues before hand. To help correct these problems try this mini regimen a month before installing braids:
► Clarify your hair with the first wash of the month
► Deep condition weekly
► A week before the installment do a medium to strong protein treatment.