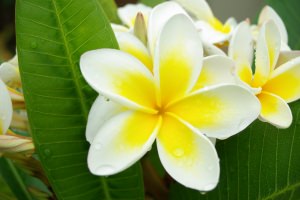 Reader Question:
Hi, I am 18 and ran across this website in an endless search to grow my hair naturally long. I am African American and i have THICK hair. The roots are unmanageable. I am going into my 2nd year of college and my self esteem is at it's lowest just because of my hair.
Since the beginning of high school i have noticed my hair is not like other girls. I went to a predominantly caucasian catholic all girls school. The few African American girls that went there as well either had natural long hair and got weaves. To me a weave isn't for me. I always felt weaves were a way of getting the long hair the easy way out. A lot of girls felt that was the only way to fit in with the Caucasian girls. I would usually get extensions* with box braids or get a relaxer. The relaxer would only have my hair lay down for 2 weeks and then it whoud be back to puffiness and thickness. I got picked on a lot when my hair was not in braids or had a relaxer. I would go home and cry to my mother about it and she would always tell me my hair was beautiful but i never saw it the way she did.
My hair is running my life. It itches constantly. I'll oil it then 10 minutes later my hair would look like nothing was put on it. It would be dry as a bone. My hair also sheds A LOT. I just want to feel good about myself and not feel that God has cursed me with bad hair because I don't want to feel this way. I used to often wish i was another race just because of my hair. So can you please give my any advice on what I should do with my hair. I'm at my wits end.
Our Answer:
Thanks for contacting us. I'm sorry to hear about the problems you are having. I cannot in good conscience give you only hair care advice when it's obvious that your hair is not the main problem here. It would seem to me that your issue is not so much your hair per se but rather how you view yourself and how you interpret beauty. Whatever the texture of your hair, it IS beautiful and you have to grasp this concept before you can really build on it and learn to grow your hair long. Otherwise even when you do manage to get your hair to a length you are comfortable with, you will find somethine else to fixate on like your hair's texture or it's fragile nature compared to other races.
You have not been cursed with bad hair, when you say that you are simply comparing black hair care to caucasian hair care which is like comparing chalk and cheese, they are just different. You need to start appreciating your hair as it is and when you walk out of your house without a relaxer or braids and exude confidence, you will be beautiful because you FEEL beautiful.
There is a wonderful video on youtube on the beauty of natural hair which I would advise you to watch: http://www.youtube.com/watch?v=89RpVdlNMTQ

On the problem of dry hair, you have to remember that the best moisturizer is water and if you are putting oil in your hair in the hope of moisturzing it, you will get nowhere fast. Oil seals in moisture after hair has been washed or moisturized with a water based moisturizer. Another thing is that if your scalp is itchy, more than likely your pores are clogged and your hair and scalp are crying out for a good wash. Please see the article on a good regimen for relaxed hair to give you a starting point on how to look after it successfully.
Good luck with your healthy hair journey.