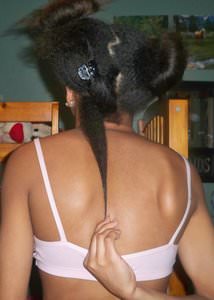 Dominique-Alexis is young and enjoying her natural hair. See how protective styling has been the secret to her success and take a look at her website for great ideas for hairstyles!
Are you relaxed, natural, texturized or texlaxed? I got my last relaxer in May of '08 and transitioned for almost a year and a half (a long time I know) before chopping the rest of my relaxed ends off and am now natural for life!
What's your story, how did you get to where you are? I had natural hair up until I turned 12 and my mom relaxed my hair. I was so excited and I loved it! For the first couple of months anyway. It only took two or three relaxers to destroy my hair and then a little after my 13th birthday, my mom and I transitioned together. It took a little while but I am finally in love with my hair and I wouldn't go back to relaxers for anything!
What is your regimen at the moment? I used to be in love with flat twists, but I just discovered the miracle of box braids and now that's my fav 'do. I co-wash my box braids every 5-to-9 nine days with the conditioner of my choice and shampoo wash with Naked Moisture Whip Shampoo when I take out my box braids. I moisturize every nigh before bed and make sure I wrap my hair too. I think that's about it.
And your favourite product? The Naked Products. I love their shampoo and conditioner. I make my own moisturizer and seal with peanut oil.
What's your signature style? Box braids and flat twists to a bun!
What is the best tip you have learned to protect your ends? Protective hairstyles! I wouldn't be this far without them.
Any links you would like to share? If anyone would like to check out my website that would be great! It mostly features my younger sister Bunny and her hair journey but I think everyone could learn a little something!! WEBSITE: http://www.natural-hair-care-info.com/