You may be searching for the perfect moisturizing product for your natural hair, but it could be closer than you think. Moisture is something that is crucial for natural hair. Too little, and your hair will feel and look parched. Naturally, water is the best natural source for moisture, but there are other moisture sources that may be as close as your refrigerator or cabinet. Here are seven food items that some natural ladies are using to keep their hair hydrated.
Honey
Have you ever wondered why so many moisturizing conditioners and shampoos list honey as an ingredient? It's because honey is full of vitamins* and minerals that are great for your hair. In addition, honey is a humectant, which means that it attracts moisture the environment and draws it into your hair. Honey is so nourishing that it's been labeled as food for your hair. Many claim that honey has left their hair soft and tangle free after using it. Some like to use raw honey by itself as a deep conditioner* and some like to mix olive oil*, yogurt and other things with honey to create a unique deep hair treatment.
Avocado
Avocado is another food item that's been listed as a main ingredient in a lot of hair care products. Avocado has been known to repair damaged hair, but it also provides moisture for dry hair. Because avocado is comprised of natural oils, much like our own skin's natural oils, it's perfect for giving your hair a moisture boost. Another added benefit is that avocado smoothes the hair shaft, leaving you with frizz free hair. A very ripe avocado can be mashed well and applied to damp hair for 30 minutes for a nourishing hair treatment.
Eggs
You're probably thinking that eggs are for protein, but not moisture. I thought the same, until I discovered that the yolk of the egg is rich in fats, and is actually very moisturizing when applied to dry and brittle hair. In order for you to see the full benefit of eggs' moisturizing properties, you MUST only use the yolk of the egg. You can mix the yolk with other natural moisturizers and create your own moisturizing conditioner*. Simply apply the yolk to damp hair and let it sit for 20 minutes. Be sure to rinse with cool water. You don't want the egg yolk to cook!
Bananas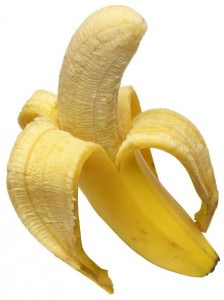 Most never think of bananas as being moisturizing, but they are indeed. Bananas contain natural oils, vitamins* and carbohydrates that will keep your hair super hydrated and healthy. The fruits also helps with itchy and flakey scalps by keeping your scalp soothed and moisturized. After using a homemade banana hair mask, your hair will be very soft and manageable, because the potassium* in the bananas softens the hair shaft. Honey, bananas and coconut* milk can be mixed together to create the perfect hair mask.