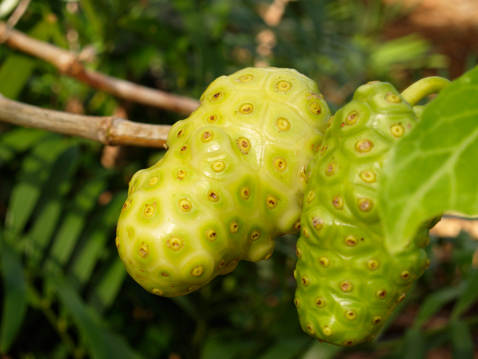 Hair care can become a bit expensive if you are becoming a product junkie, but one way to address that is to become your own mixologist. Of course, if you are going to do that you need nothing but the best ingredients.
One of the beauties about living in a tropical country is that there is a wide range of natural resources to choose from. For instance, the mimosa plant that we in the Caribbean call the "shame old lady" the much acclaimed aloe vera and natural castor oil* are all easily accessible. It helps to know you can reach out and pick something from a tree and get all that wonderful goodness.
As I thought about this I looked in my own back yard and noticed that I had several noni trees loaded with the "miracle fruit". Though it is touted as a cure all natural remedy for most everything, many people still have no clue what noni is. Of course, Dr. Oz featured it in an episode but in case you missed that, peep the rest of this info.
What is Noni?
Noni – Morinda Citrifolia- is an ever green plant found in Southeast Asia, Australia and the Caribbean. It is said to be a relative of the beloved coffee a traditional Polynesian medicine that has been around for ages. There have been said to be numerous benefits of both the juice and the fruit as well as the tree. This may be because of it's analgesic, anti-inflammatory properties and antioxidants which according to the National Center for Complementary and Alternative Medicine, ward off the effects of the environment.
The dried leaves and bark of the plant can be used to brew tea, the berry or fruit can be subjected to a fermentation process to provide the juice or you can simply get the capsules that have become a bit more popular.
It is quite easy in a fast-paced world such as this, for our health to become compromised. When that happens it may manifest in premature hair loss, so your hair may tend to fall out more than is expected. Noni can help to put things back in balance.