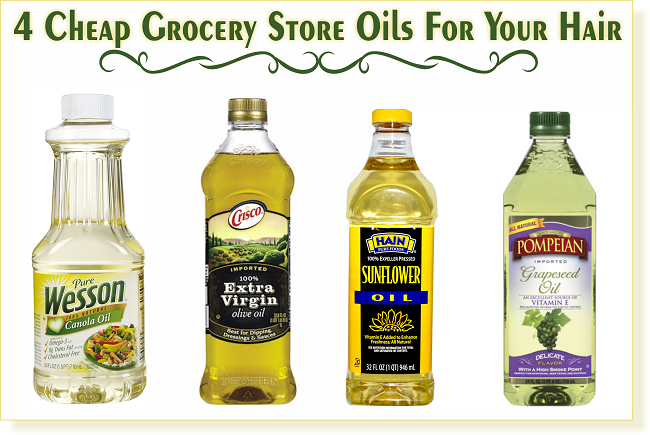 So picture this: You have just washed and conditioned your hair and you are set to moisturize and seal. You have just finished applying your favorite leave in to the last section and you are now reaching to seal that goodness in.
But… wait? Wholllleee up, what happen to my last bit of avocado oil*? You then learn that [fill in unfortunate person here] has used the last drop and you didn't know it. You panic, "Where am I gonna find avocado oil* at this time of night?"
The health food store is closed and the only thing that is open is the grocery store down the street. Well we can push pause on this scenario, because we have listed four highly effective oils that can be just as good for your hair and can be found at most grocery stores. Check them out!
1. Canola oil
Okay so side story: Besides me, was there anyone else that wonders where exactly canola oil comes from? I mean oils like olive* and sunflower oils are pretty obvious, but canola oil* was a mystery to me until a little while ago. But anyway lets get back to the matter at hand.
What is Canola Oil?
Canola oil is an oil that is derived from the rapeseed plant which is a type of turnip plant. Canola oil can either be created cold-press style (which is great because a lot of the "goodies" remain in the oil) or through crush and heat extraction, which makes the oil more refined.
This oil also has a high amount of vitamin E* and omega 3 and 6. Side fact: Now, I know you have to be wondering where does the word "canola" come in? Well the "can" represents Canada and "ola" represents oil. This oil was named by the Rapeseed Association of Canada so the Canada part of it makes sense I guess.
What are the benefits of using Canola oil?
► Its good for coating the hair to seal in moisture.
► Reduces frizz.
► Aids in scalp issues such as dandruff.
► Excellent for hot oil treatments.
► Great alternative to olive oil*.
Where can one find Canola oil*?
You can find canola oil in any grocery store and stores such as Walmart. If you want cold-pressed canola oil and cannot find it in your regular grocery store, try health food stores like Whole Foods or YES! Organics.