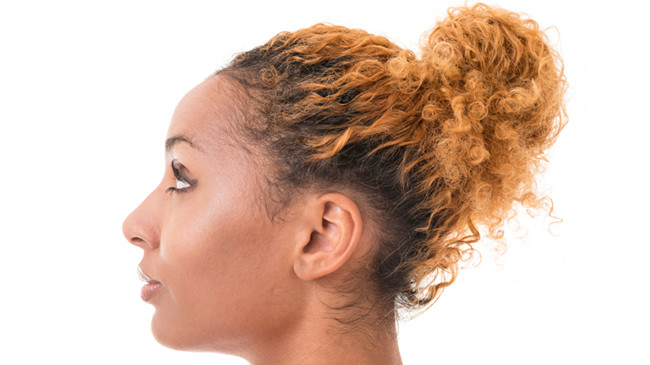 We get this question all the time! Hair loss is a big deal. Just this week we published a post of women who have given up on getting their edges back and have decided to go to the extreme of tattooing edges on to their hair line. As ridiculous as that sounds it speaks to the level of desperation many of us have when we are trying to grow our hair back and fast.
So what are the best products for lost edges?
The answer isn't as simple as sending you to Target with a shopping list, getting your edges back will take a combination of methods including using a few things that we know are healthy for your hair overall.
Create an environment of overall hair health
Many of us like to target the problem and spot treat but I want to encourage you to look at the problem from more of a general perspective, this means creating a healthy hair regimen for yourself and sticking to it. When your entire scalp is healthy all of your hair will grow including your edges.
Deep condition your hair weekly including natural ingredients that help jump start hair growth like castor oil to your mix.
Eat healthy including healthy fats, protein and a ton of leafy greens and vegetables that encourage growth. Massage your scalp weekly with great oil mixes that include oils that encourage blood circulation to the scalp leading to growth.
Finally drink water, get into the habit of getting at least a gallon of water in per day to help your hair stay moisturized from the inside out.
Practice healthy hair styling
If you are growing out your hair and need your thinning edges to thicken up, you have to ensure that you are not putting any stress on the edges. No tight ponytails, no tight braids or twists; just allow the hair to breath and grow without stress.
Utilize wigs* or loose twists so that you get the best of both worlds while taking care of your hair at the same time.
Try onion juice for alopecia
We have an entire post about onion juice and its benefits for hair loss, here is a snippet of the post:
Onion juice has been used for centuries to help with thinning hair and grey hair. The juice encourages circulation around the hair follicles which is pretty much what the scalp needs to jump start growth and it has been known to regenerate hair follicles as well.

Additionally, the properties of the vegetable are known for killing parasites, germs and some fungi infections all of which can lead to hair loss. The secret is the sulfur*, the mineral is known to encourage hair growth and reverse aging and onion is chalk full of it.

Other foods high in sulfur include eggs with the yolk, seafood, liver, garlic, broccoli, water cress, and yummy brussels sprouts all known to to improve hair growth and health.
Make sure you check out the rest of the post here. Dealing with hair loss whether it is your nape, edges or crown is not easy but it helps to approach it from an overall health perspective rather than targeting the area with specific products or serums.
If you go to a doctor or a dermatologist they may have ways to spot treat the problem, and in addition you will need a general healthy approach to taking care of your hair during treatment, so why not start now?! Are you dealing with hair loss? Comment below and let us know if this post is helpful.