Say What? My first impression of yoga actually being beneficial to your hair growth, I immediately thought, "That's insane." As I did some research, it kind of made sense.
For those yogis out there, we know that yoga is just so healthy and beneficial for the body, mind, and soul in general, but have you thought of it actually helping your hair to grow? Why didn't I think of this sooner?
We've heard of yoga improving stress levels, digestion, menstrual cycles, core strength, etc, but…hair? I'm sorry, I find it hard to really believe, but then again…why not?
There is also this young woman who claims that her hair grew a half an inch in ONE WEEK from doing certain yoga poses. Let's get into the poses
POSE # 1: DOWNWARD DOG
This is one of the basic poses in yoga. Downward dog increases the flow of blood and oxygen to the head and to your face. It stimulates the nerves in your scalp. Remember? Good blood flow equals happy scalp which equals happy hair.
POSE # 2: FORWARD BEND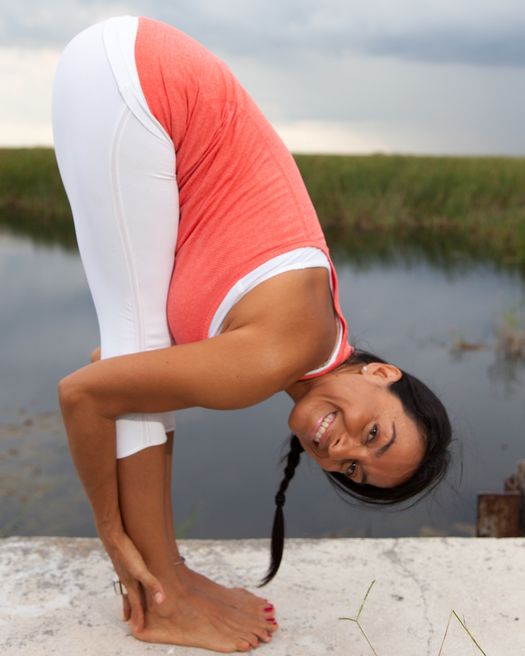 yogatrail.com
It's pretty much touching your toes. Besides it helping to stretch your hamstrings, the forward bend causes your head to be below your heart. This releases stress that may cause hair loss. This is another pose that promotes blood flow and circulation.
POSE # 3: SHOULDER STAND
This pose a bit tough, but it not only starts up the blood circulation, but it promotes health of the thyroid glands which may cause thinning of the hair.
POSE # 4: DIAMOND POSE
This pose is yet another stress reliever. Stress and anxiety is cause hair loss, of course. Breathing deeply and meditation can rid you of not only stress but hair loss. So do you actually think these poses could actually promote hair growth? Comment below!