The other day I made an interesting discovery and maybe I am late but you know the basic, bulk braiding or twist hair you would buy to achieve Marley twists or box braids and even to achieve crochet braids?
Well the most genius thing has happened. Some brands are starting to put that same hair on a weft, so if you desire to sew in the hair and then style, you can do that now!
The most popular brand is the Freetress Equal Cuban Twist Braiding Weave. Sounds familiar? That is because that hair started out like any other Marley hair (or afro kinky*) braiding bulk hair but it is now even more versatile and comes in weft form.
What this means is that you can achieve crochet braids, twists, braids in less time in comparison to styling with bulk hair and when installed, you can wear it as it is or twist or braid the hair if you prefer it that way.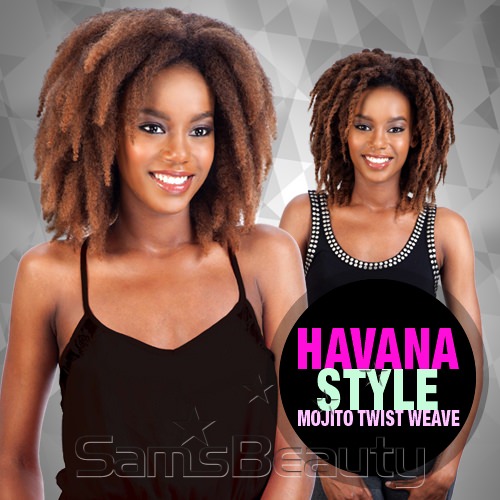 Most buyers of this type of hair comb out the strands and perm rod the hair or do a twist out to achieve curls. According to YouTubers, this hair is convenient and its easy to insert (it's just like sewing in any other tracks of course) and the styling part is pretty much left up to creativity.
You can even make a wig* from the hair much easier instead of those time-consuming do it yourself crochet wigs* where you purchase a net cap and crochet the bulk Marley hair onto the net cap. If you do not want to sew the weft you can hot glue it onto a wig cap* as well.
The hair comes in 2 lengths, most sites offer it in an 8 inch or 12 inch but 12 inches is more expensive. There are many brands out there to choose from and they all offer ombre colors and natural colors as well.
That makes for easier styling! Have you all purchased the weft versions of Marley hair before?