Its snowing in Colorado right now and with news like that we really do not have a choice but to accept that the winter months are fast approaching.
Typically we don't think about sunscreen in the winter time, our thoughts of beaches and sweet drinks with little umbrellas, bikinis and sunscreen are long behind us (unless you are reading this in a permanently hot city, lucky you!).
The unfortunate thing that a lot of us don't realize is that the effects of the sun are not mitigated by the fact that there is snow outside, the UV rays can still be harmful even when we do not 'feel' them.
Sunscreen for our hair is just as important as sunscreen for our skin, and for us women who love a great oil that can do double duty, here are 7 natural oils that come with built in SPF sun protection.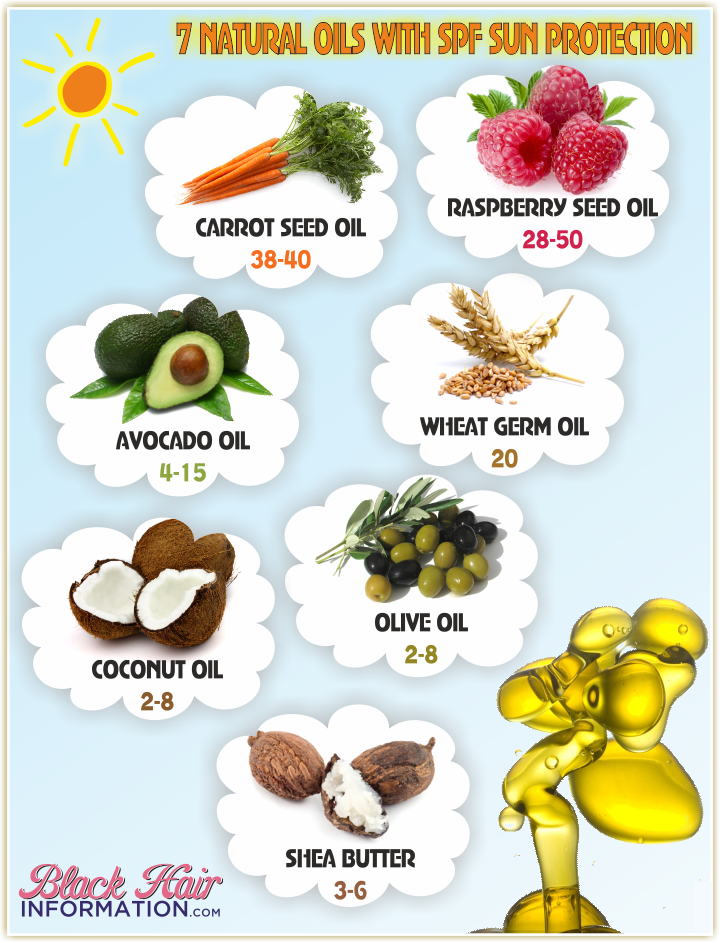 Share the graphic on your website:
Raspberry Seed oil* – 28-50
If you haven't heard about raspberry seed oil* then let us be the first to tell you that is is the most popular oil used specifically for it's sunscreen benefits. The spf is around 28-50 if the oil is of the best quality which makes it a great for sun protection. You can also use it on your skin if you have skin ailments such as eczema or psoriasis.
Carrot Seed Oil* – 38-40
Do you hate carrots? Well you shouldn't because every part of a carrot is great for you including the oil. Carrot oil is pretty strong on it's own so should always used along with a carrier oil to dilute it. It is also considered a natural antiseptic as well. It's natural SPF of around 38- 40 is amazing keeping it right up in the rankings for best sun protection.
Wheat Germ Oil* – 20
This oil should be in everybody's arsenal, because it is chalk full of ceramides, vitamins and minerals and we do not know a hair strand out there that has complained when used regularly in any hair regimen. The oil has vitamin E K and B which fights free radicals as well as an SPF of 20 protecting your precious locks from the sun.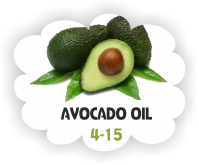 Avocado Oil* – 4-15
Avocado oil* is a great mixtress oil, this means you can add it to your deep conditioning* concoctions and feel proud of yourself that you have done something great for your hair. Avocado oils is rich in vitamin A, B, D E, lecithin, and fatty acids as well as being touted as an oil that helps to stretch natural hair. It is however in the lower categories of SPF with numbers as low as 4 but still worth mentioning as a natural way to add a barrier to your hair.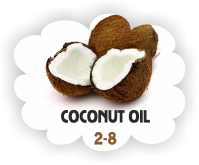 Coconut Oil – 2-8
Our old favorite coconut oil cannot, will not be left out of any list for anything healthy hair regimen related. Again, a relatively low SPF number but it is so high in antioxidants it would be silly to leave it out. As far as our skin health goes if you have not replaced your lotion with coconut oil yet, then you are in for a treat when you do, your skin needs nothing else.
Olive Oil – 2-8
Like coconut oil, olive oil is an old favorite that has the same SPF rating as the former with all the added benefits for your hair and skin. Again, if you want a higher SPF content oil then raspberry, wheat germ or carrot might be your best bet. You can mix with olive oil which has been used in hair for literally thousands of years and you will have something really special on your hands.
Shea Butter – 3-6
Ok so shea butter is not an oil, but we just cannot justify leaving it off the list. Shea butter is a waxy fat derived from the shea nut and is harvested mainly in west Africa. It is easy absorbed by the skin and hair when melted between your fingers. Shea butter contains high levels of cinnamic acid and Vitamin A which are UV-B absorbing triterpene esters that provide vital protection against the suns rays. It's SPF rating is about 6.