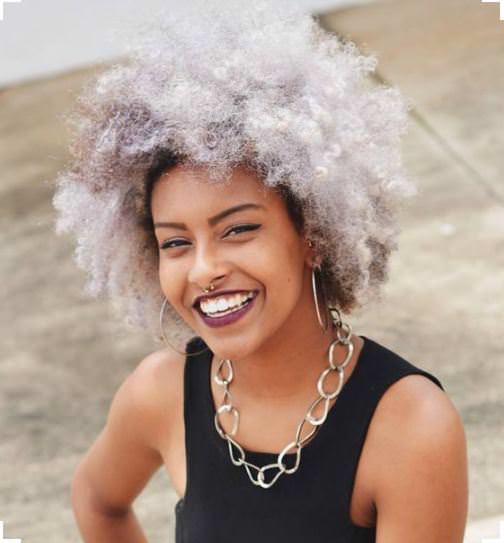 Gray hair is a fun and hot trend that has been worn on purpose by many women for a fresh new look and even by many celebrities like Rihanna, Dascha Polanco, and Amandla Stenberg. More and more older women continue to embrace their gray hair as a badge of dignity and experience.
But can we talk about me for a minute? Oh, Em Gee! It finally happened…I discovered my first natural gray hair. I don't mean a highlighted strand of hair from coloring nor a lightened strand of hair by the reflection of the sun.
This gray strand of hair is staring right at me! Y'all my life literally just flashed before my eyes. One minute, I'm a fun and care-free youngen in my 20s and the next minute…BAM, instant Grandma! Okay ,so maybe it's not that bad, but finding my first gray hair was a straight shock to me.
The main cause of gray hair showing is when the "pigment cells" or color-producing cells in the hair follicle no longer contains melanin and stop producing pigment. The hair strands will become more of a transparent color like white, gray, or silver.
As people continue to get older, the hair follicles will produce fewer pigment cells causing your hair to appear gray in color.
The thing is when you see your hair gray for the first time you may not even think about your hair follicles loosing pigment.
You just see a gray hair in your 20s and this discovery can be quite nerve-racking because you start to wonder how much time you have before you are sporting a head full of gray hair.
If you are in my position, here are 4 tips to help ease the anxiety when you discover your first gray hair:
Do Not Panic!
Seriously, do not panic! Although hair follicles loosing their pigment is the main cause of gray hair (and even more so: genetics), there could be a connection between gray hair and stress.
Stress can cause hair loss and excessive shedding; however, stress can result in premature graying as well. So don't be like me: taking 50 pictures of that "out of place" hair strand and sending them to every contact in my phone asking, "Is this a gray hair???"
I was stressing about my gray hair for weeks and so it's possible that a few more could have shown up because I was sweating that one gray hair.