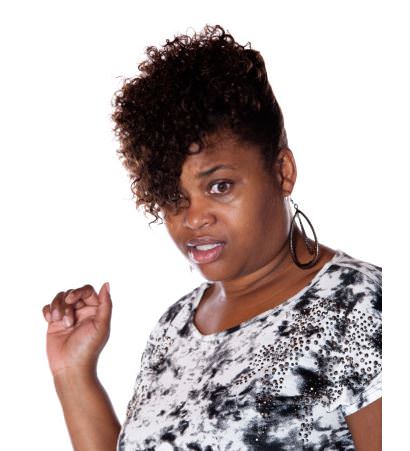 I get really torn when I have to share stories like this, I do not know if the person writing such shenanigans is just looking for a way to go viral by saying something stupid and does using our platform to address the issue add fuel to a fire that just did not need to be started?
I typically reconcile those two thoughts with one thing…maybe somebody out there can still benefit from the conversation and as such we should discuss it.
Kenyan blogger Nancy Roxanne wrote a piece on uReport titled "Ladies, natural hair is ugly! There, I said it." In the article she goes on a tirade making the case that natural hair isnt for everyone and that it is a 'pain to manage'. Her experience with natural hair other than the fact that she was born with it, is through a friend of hers who transitioned to natural hair and then back to relaxed in under a month.
I did not bother to check out how deep Roxanne's habitual addiction to weaves and wigs* are on her social media, but word on the street is that she is probably more of an expert on imported hair than she is with the one she was naturally blessed with.
Read her article below:
It is said that a woman's beauty is in her hair. Women go to great lengths to achieve gorgeous hair. Some perm and relax their hair. Some spruce up their hair with extensions*. Others sport weaves or wigs*. And then we have the pompous of them all; the 'naturalistas'. They believe that nappy is happy. I beg to differ. In my opinion, the eye-appeal of hair is in the length and volume. But that is just me.

The natural hair community in Kenya is something of a cult, what with all these natural hair gurus over-sharing routines, regimens and hair recipes on social media. I never cared much about 'team natural' until I watched a friend transition from relaxed hair to natural hair then back to relaxed hair in under a month. Someone needs to blow a hole in this natural hair Shangri-La that some people have got going on.

First of all, natural hair is not flattering to everyone. I even dare say it is ugly. Only a handful of women actually look good with kinky* hair. Still, masses of unenlightened women wake up one day and decide to rock natural hairstyles only to end up adding to the ghastly parade of natural hair disasters being flaunted around.

Secondly, contrary to what the naturalistas may want you to believe, natural hair is a pain to manage. Getting natural hair to look presentable enough to leave the house is a nightmarish chore. Washing, detangling and styling involves a gruelling regimen where you spend hours with hands over your head.