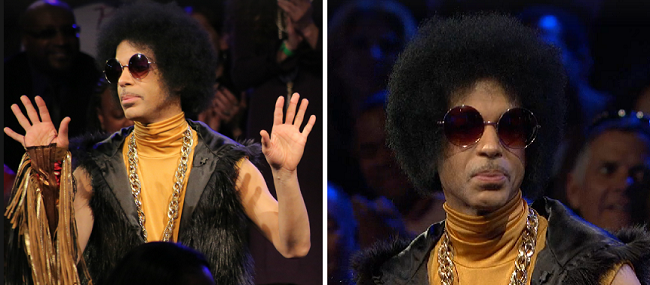 Did ya'll watch the Arsenio Hall show last night? I am not going to lie, I waited for Wednesday's show because Arsenio has been raving about his royal purpleness all week long and I am literally head over heels in love with Prince.
I like Prince for a couple of reasons, one is that he is definitely a musical genius and his music transcends time which is not easy to find these days. I also like his I don't give a darn attitude, he has the entourage, the fur, the gold chains, the funky glasses and it just is what it is.
Prince has been funking it up since I was a little girl and he is still making music to this day . He even admitted to having a ton of stuff in archives that we will probably never hear. On the show he did all new music and he along with his band really did the thing and rocked the house the only way Prince can.
Apart from the music, Prince who is usually a very private person shared a few things with the audience that we often don't hear, for example he can cook. Yup Prince actually can make a meal; well he can make one meal, Omelets!
Then he joked that all of his friends have high cholesterol. Other things he shared was that he would have been a teacher if he was not singing, he does not own cell phone and he loves learning about history as he travels and tours.
Arsenio even allowed his guests to ask Prince a few questions and Prince was very accommodating even with the 'hard questions'! For instance one person asked, what his pet peeve was. His response was:
Strangers touching my hair!
Honestly it really was a funny moment when he said that because he has been rocking a baby fro for some time now and for some reason we didn't think Prince would share the one major problem many of us naturals complain about.
Needless to say the purple one does not like his fro being touched; you need to respect his space and his hair! I don't know about you but I am not mad at him. If you did not catch the show it might be on YouTube pretty soon if not already, however check out this snippet here on the Arsenio Hall website.