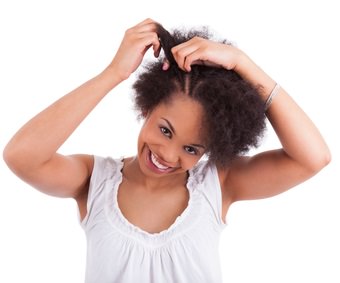 The other day I looked up the definition of natural hair because sometimes with all the chatter about it, I forget. The definition I found was hair that is 'uncolored unadorned and otherwise in its natural state'. Another definition that is slightly more fancy is 'a filamentous bio-material that grows from follicles found in the dermis'.
The definition that I have always used, is hair that has not been through any kind of chemical processes that will alter or change the hair from how it naturally grows from the head.
I have heard some strange rumblings from some areas of the natural hair community that some of us with more kinky* than curly textures are way too obsessed with seeing our hair in curly styles and we are failing to wear our hair in truly natural styles.
While I clearly don't agree with this, I do however want to humor the idea, because for some, relaxers are not just relaxers. Some believe that relaxers signify a certain mental breakdown when it comes to the appreciation of what our natural hair is. For some people the choice to permanently alter the structure of the hair is a means to an end. It is an attempt to glorify what is considered beautiful from a European standpoint and deny how we view ourselves as a people.
For others it really isn't that deep, some black women just happen to prefer their hair straight and since adding heat to natural hair consistently can cause damage in the form of breakage and significantly less length retention, they opt to just relax the hair and care for it in a state that is permanently straight. Really it is just a matter of choice.
Twist outs, as a matter of fact lets not stop there, braid outs, bantu knot outs, roller sets, twist and curl sets are all just hairstyles that much like a relaxer in theory are just a means to an end. For some women wearing their hair in its naturally curly state at maximum shrinkage not only encourages tangles and knots but can lead to some serious breakage which can be counter productive to healthy hair goals.