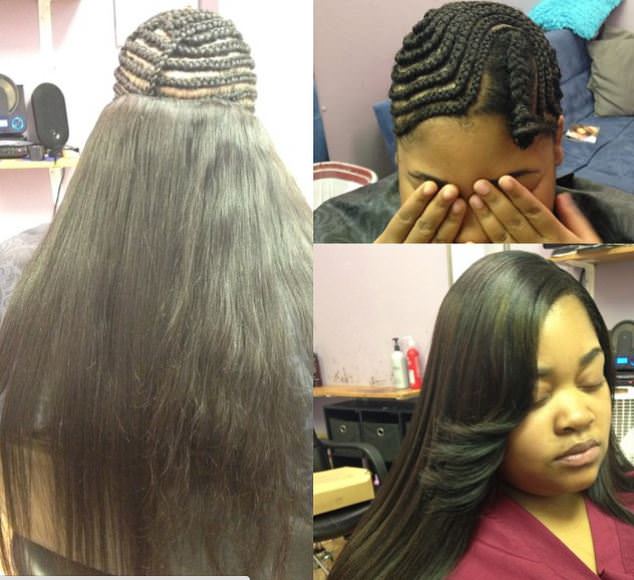 We all have our gripes about stylists from time to time, but on the other side of the coin when a stylist really puts in the work, takes pride in what she does and gives you her time, she deserves compensation.
This young lady who is being called the "Weave Runner" (real name Jessica) because she does just that, she gets her weave and then she, well… she runs! She has done this same thing to a couple of stylists in Detroit but some stylists are speaking out on social media, putting weave runner on blast.
According to one stylist she would make the appointment to get her hair done, and once it was done she would say she had to go to the ATM to get money. She would then, never come back!
"This young lady made an appointment with me to get a sew-in and She also got 4 BEAUTIFUL BUNDLES* of hair from me just to run out on paying. She mischievously lied and said she needed to get the remainder of the money from the ATM in the building where my suite is located. She left her jacket and purse and never returned. This has NEVER happened to me and to prevent it from happening again. EVERY NEW CLIENT MUST PAY IN FULL FOR YOUR SERVICE BEFORE YOU SIT IN MY CHAIR. AS ALWAYS I PROVIDED GREAT CUSTOMER SERVICES, SUPERIOR QUALITY IN HAIR AND AN AMAZING STYLE. I WOULD LIKE TO THANK MY CLIENTS & CUSTOMERS WHO PURCHASE HAIR FROM ME EVERYDAY."
Even though the first stylist was never compensated by the client, there are still great people in the world because a local radio station was able to gather enough money to pay her.
The cost of the stolen weaves were over $200.oo for weave and closure* and from the looks of things the work was outstanding, see below the thank you note the stylist left on her instagram after she received the money from HOT 107.5 a morning show in Detroit.
"Goodmorning. I would like to thank everybody for their support and spreading the word about what happened to me. Wednesday night I prayed about it and let it go so I could positively get back to work Thursday Morning. God has really been working this situation out. I wish nothing bad on the young woman who is doing this. I hope she learns a lesson because stealing isn't cool at all. I Want to apologize to the other stylist this has happen to as well. I want to thank HOT 107.5 THE HEAT MORNING SHOW FOR CONTACTING ME THIS MORNING AND SUPPORTING ME THEY ALSO SAID THEY WOULD PAY JESSICAS DEBT GOD IS SO GOOD TO GOOD PEOPLE. I was working all day yesterday so I couldn't respond to the 1,000 ++++ messages, calls, emails etc. But TTTTHHHHHAAANNNKKKK YOU DETROIT AND EVERYBODY FOR STANDING UP FOR NOT JUST ME, BUT WHATS RIGHT & HAIR STYLIST AS A WHOLE. I LOVE YALL & APPRECIATE YALL"
As for weave runner? She hasn't been caught yet; looks like somebody will be going to jail over some hair because we will definitely do our part to make sure her actions are reported and what we can see of her face is blasted everywhere.