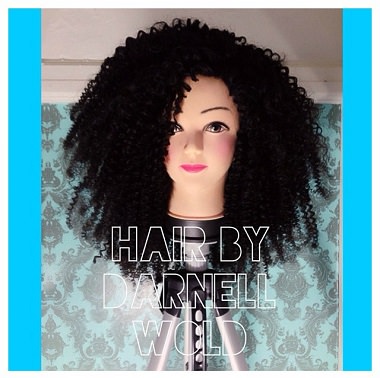 We know you are an avid Supporter of BHI and what we are trying to do in terms encouraging healthy growing hair whether you are relaxed or natural, what are your top three tips that you can you share with our ladies about keeping our hair healthy and growing.
Yes. I am a huge fan of BHI and all of the great information and research you ladies are making accessible. I am a firm believer in everyone having at least a foundation in hair care knowledge and manageability.
I feel that as a hairstylist it is our job to educate each and every one of our clients and provide them with the necessary tools to maintain their hairs integrity outside of the salon. In regards to my top three hair tips I would have to say eating a healthy well balanced diet is key to a head of healthy hair.
Foods that are rich in protein, zinc*, and vitamins* C and D help keep hair strong, shiny and beautiful. Some of the best foods for our hair include walnuts, salmon, spinach, eggs, blueberries, and chicken. Making sure to stay hydrated by drinking plenty of water is crucial not only for your hair but for your skin, body and health as a whole.
It is clear that if we are healthy and beautiful internally we will have the same results externally. The majority of people are so caught up in hair products and what they are putting on their head that they forget to worry about what they are ingesting.
Aside from keeping a healthy diet and taking vitamins*, the second most important tip for healthy hair would be to avoid heated styling tools as much as possible. It is inevitable that we must use some type of heat on our hair; however it is important not to abuse it and to always use some type of heat protectant*.
This is something that is key for a healthy head of hair, along with the awareness of exactly what chemicals and products we are applying to our hair. One product that almost everyone uses that can really damage our hair health is shampoo. It is important that we do not abuse shampooing our hair and we only do so when necessary.
Keep in mind that this does not mean completely removing shampoo from our hair regimen, as shampooing is necessary to remove product build up and clogged pores of the scalp. Hand in hand with shampooing comes conditioning, which is very important for our hair health and should be done frequently, however not excessively. By following these three easy steps we will ensure healthier, shinier locks of hair.
Many of our readers have made the decision to 'big chop' and embark on what we like to call a natural hair journey, what advice would you give to a young lady who might not be feeling as confident as she should be while wearing a low hair cut or who is going through that awkward stage of hair growth.
This is a great question and happens to be a popular issue amongst the majority of woman who are transitioning away from chemically relaxed hair. Fortunately, there are many different stretching methods and styling methods to enhance and temporarily change ones natural curl pattern without the use of heat or chemicals.
I would recommend for women to be open to trying out different hairstyles that will actually compliment them and boost their confidence until they find something that works for their individual needs. Please keep in mind that what works for one does not mean it will work for all.
Your hair is individual and you do not have to limit yourself to what you see the majority doing. Have fun with your hair; embrace the use of extensions*, wigs* and hairpieces. There is no reason why one should settle for being unhappy with their "big chop" or unmanageable tresses.
The hair industry is forever evolving and there are endless options for the natural ladies that don't involve a relaxer. Especially since there are talented wig makers like myself who can create realistic looking custom made wigs* that can be used for protective styling and provide you with the flexibility of alternating your style.