I can't say that I'm newly natural, in fact, a more spot on description would probably be "newly enlightened", but like most newly natural and transitioning ladies I have been diligently studying what my hair has been doing since I've started my healthy hair journey.
Needless to say, armed with hours of research on what I need to do to tighten up my regimen, I came to the conclusion that my hair needs some protein especially after I tortured it with my flat iron* on New Years Eve (no heat protectant*, worst yet, on hair plastered with petroleum jelly*) Yikes!
Now wait just a minute, let she that is without sin cast the first stone. That was then (before I was enlightened about the sins of hair care), long ago and far away.
After giving it a few months into the HHJ I decided to do what mama did back in the day; whip up that egg, saturate my hair in it and let it sit under a plastic cap for a bit.
Then I remembered reading somewhere that not all proteins are created equal, so I got to thinking about whether or not I had used the right protein. This led me to do some digging and I found that there are several different types of proteins, each with different functions when applied to hair.
People are constantly complaining that protein makes their hair hard and often attribute it to protein overload, when really the protein that you choose could make the difference between soft and brittle hair.
Sometimes it's just a case of "too much of one thing, is good for nothing." For instance, yogurt (commonly used) – Contains large molecules that just coat the outside of the hair. The result? It makes many people's hair hard!
That is the power of the chunky molecules creating a crust onto the hair since they are too large to be absorbed by some hair types. Imagine that, and I was about to stock up on some Yoplait!
On the other hand, hydrolyzed protein – which is most recommended for those badly in need of a protein fix – is great for those with a good tolerance for protein because molecules are small enough to penetrate hair and increase elasticity.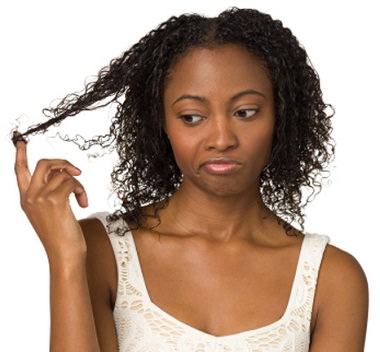 Do not get nervous and consider cutting protein from your regimen altogether just because of a negative yogurt experience. Protein is essential to the strengthening of your hair, in fact hair is made up of protein. The idea is to find the best protein treatment for your hair.
For the purpose of the article, we will focus mainly on the structural and functional proteins. The structural proteins are those which support the biological makeup of cells, while functional proteins are those which cause things to happen within the cells.
Let us look at some types of proteins and assess their functions and how they affect your hair.
Hydrolyzed Human Hair Keratin – is made from human hair that has been broken down (hydrolyzed). This is the same keratin that makes up most of our hair, and keeps it pliable. In fact, the cuticle, which is the outer layer of the hair shaft, is basically natural Keratin that has died.
According to master stylist and chemist Francis Bellofatto, this natural Keratin cannot be replaced by any product to combat coarse hair but use of Keratin complex products can temporarily make hair more resistant to damage.
Hydrolyzed Keratin Protein – is Keratin complex protein that has been broken down so it can penetrate all layers of the hair better and as such is excellent for deep conditioning*. This type of complex may be made from either animal or plant protein. One of the most potent hydrolyzed Keratin proteins, replicine, is a protein derived from the wool of Australian sheep.
It is most effective in forming a Keratin complex that can bind to the gaps in the cuticle or even coat the outside of the strand to create a fake cuticle since it most nearly resembles the natural cuticle of our hair, in effect it evens out the hair's porosity.
One product that carries this protein is the Aphogee Keratin 2 Minute Reconstructor* (of course, this treatment is not for weekly use). What this product does is to protect the cortex and limit further wear and tear on the strand's natural cuticle.
Hydrolyzed Silk Protein – like other hydrolyzed proteins, it coats the hair to form a barrier over the shaft. Made from one of the the strongest natural fibers which has molecules small enough to penetrate the hair shaft to make their way to the cortex, its crystalline barrier improves elasticity, sheen and resilience.
It is excellent for deep conditioning* as it's known to soften the hair and is said to carry ten thousand times its weight in water which obviously means better hydrated hair.
Hydrolyzed Soy Protein – fortifies and repairs hair fibers which in turn smooths the cuticle and increases sheen and the hair's capacity to retain moisture.
Collagen – is found in the cortex of the hair and is responsible for determining the color and curl pattern of the hair. When applied, it enhances flexibility of the hair.
Milk Protein – made from milk, deposits eight amino acids into the hair and is said to be the most perfect protein since it nourishes dry or damaged hair back to life.
Glycoprotein – has a large diversity of functions. and remained a source of intrigue for scientists for this very reason. What we have come to know about glycoproteins is that they are rich in amino acids which help to smooth the hair, adding to it's healthy appearance.
Wheat Protein – like soy protein, it supports moisture in the hair which ultimately leads to increasing the strength of the hair.
Animal Protein – like some of the other proteins mentioned here, coats the hair. The drawback is that the fatty acids which it is broken down to, often cause build-up since its molecules are not small enough to be absorbed into the hair. So it would seem that topically applying that whipped egg might not have been as effective as I thought.
Vegetable Protein – unlike animal protein, it can be absorbed into the hair and has been touted as a viable treatment for split ends. It provides hydration for the hair, thereby enhancing moisture, it is great for damaged or porous hair and leaves no buildup.
Common ingredients for home-made protein treatments
Yogurt – Contains whey and casein proteins which can both give some added strength to the outer layers of your hair but being unable to penetrate inner layers, it may leave your hair feeling hard. Best used combined with added moisturizing ingredients to avoid drying your hair out.
Eggs – Traditionally used to strengthen hair, eggs are hit and miss depending on the head of hair in question. Often used along with avocado to make a home-made protein treatment, this concoction should strengthen outer layers of hair sufficiently for those who are not protein sensitive. Again the molecules are not small enough to penetrate the hair and provide internal strengthening support so it may not the ideal source of protein.
Gelatine – A popular home-made alternative to hard protein treatments for distressed hair. Gelatine is almost purely a hydrolyzed protein itself so it does penetrate all areas of hair strengthening and repairing damage. For this reason, unless it is being combined with many moisturizing ingredients it is best avoided by those with protein sensitive hair.
Conclusion
Given all that we now know about proteins, we can make a more informed decision as it relates to our choice of protein treatment and based on the information at hand, knowledge of the porosity of your hair is crucial to making that decision.
If you are desperately in need of a protein treatment but you are unsure of your hair's sensitivity, opt for products that have "reconstructor" in the name as they tend to be lighter than full blown protein treatments.
If your hair is left feeling softer then carry on using them. If on the other hand you experience a bit of brittleness, correct the overload then stick to conditioners that have hydrolyzed proteins among the last few ingredients instead of the first few.
So rather than vilifying protein altogether and missing out of the strengthening properties, choose the right type which will be the most beneficial to hair.