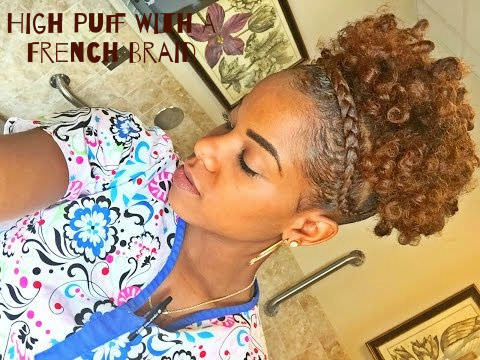 With all of the beautiful hairstyles that natural hair is capable of executing, I have to say that the High Puff is one of my favorites. Although I was texturized at the time (I'm now 4 months post 3rd BC. YAY!) the Wash n Go High Puff was my go to style.
There is just something absolutely regal about wearing a puff and it is just one of those hairstyles that fits anyone and everyone. But do you know what makes the already regal High Puff even more regal? A French Braid of course! Below, Youtuber Quiesha Jay shares her how-to for creating the French Braided High Puff!
Products Used In To Achieve This Style
Leave In Conditioner*– Mixed Chicks* Leave in Conditioner* or any moisturizer that you like to use for your hair.
Moisturizer-Cantu Coconut Curling Cream or any moisturizer that you like to use.
Gel– Eco Styler Olive Oil Gel (now many ladies have good experiences with Eco Styler but you can use another gel if it is not your kind of gel. Also you can omit gel if you don't need it.
Styler– Shea Moisture*'s Gel Souffle or any styler that you choose.
Oil- African Angel Jojoba Oil* (I'm not sure if this brand is 100% jojoba oil* but if you aren't a fan of Jojoba then you can use any oil that you would like to use
Afro Pic/Comb- To detangle hair (it would probably be best to use a wide tooth comb* or fingers to detangle hair to prevent breakage)
Rat Tail Comb*- To smooth out sections for wrapping hair around the rods
Toothbrush- To smooth down edges
Foam Curlers/Perm Rods- In the video, Quiesha Jay uses blue foam rollers, however, you can use any rollers that you would prefer
Hair Length Needed to Achieve This Style
This style works best on hair that is at least 4 inches and over. The shorter the hair is, the smaller the rods should be. This hairstyle is also great for ladies who are transitioning.
Here is Quiesha Jay demonstrating her take on the High Puff with a French Braid.
I really love this hairstyle and I think that it looks absolutely beautiful. Try it, and let us know how it works out for you.