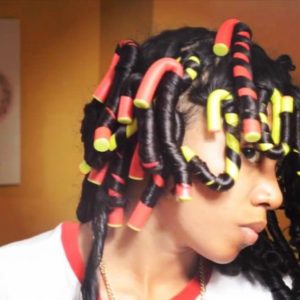 Styling
Before adding your flexi rods* to your hair separate your hair into workable sections. I prefer four quadrants starting with the back left quadrant clipping the hair that I do not need away.
In each quadrant further separate the hair into manageable sections to your taste and also small enough to fit over your first flexi rod*.
For a very defined look you should use a small section of hair, for a fluffier curly look use a bigger section but not too big or your hair might never ever dry.
Add your leave in and then a styler before your put the rod in your hair. The styler that you will see most stylists use is a foam wrapping solution of some sort.
The foam gives the hair a softer hold in comparison to gel, but some women also use gel for maximum hold. Your choice of styler is totally up to you.
Our recommendation on foams:
1. Nairobi Wrapp-It Shine Foaming Lotion
2. Creme of Nature Argan Oil Style and Shine Foaming Mousse
3. Motions At Home Foaming Wrap Lotion, 8.5 Ounce Pump Bottle
I have personally heard great things about the Nairobi Wrapp but I have used Creme of Nature with no problems to report.
Soak each section and use a hefty amount of foam on the section you are working on. Add the flexi rod* to the section starting at the end of your hair.
You can try the horse shoe method I mentioned at the start of this post or you can just start at the end of the flexi rod* an wrap the section of hair around it ensuring that you are not just wrapping the hair in the same area of the rod. Bend the rod to secure your hair and move on to the next section and once you have finished all four quadrants you are ready to dry your hair.
Drying your hair
This is hands down the most important part of this style because if your hair is not dry the curls will be frizzy, they will fall and honestly with the products you have used in the style, the whole thing will flop.
We definitely recommended using a hooded dryer* to get your hair completely dry unless you know for sure that your hair can dry over night.
Once your hair is dry you can begin to separate the curls, use a little oil on the tips of your fingers and separate the curls as much as you want.
This style should last for at least 5 days but if you are spending a lot of time outside in the sun or in the heat it probably will not last for a long time.
I think a defined flexi rod* set is great for a night out or a date and then you can wear a fluffy curly look for the rest of the week.
Check out @futurecoldest as she releases her curls from her latest set:
Dope right?