It is almost impossible to start your healthy hair journey without constantly being reminded of how important moisturizing and sealing is. Moisture, moisture, moisture! Your hair needs it to stay healthy and retain its length. Dry hair is brittle and breaks.
What's more, lots of hair bloggers even suggest starting a new regimen with moisture only and then incorporating protein once you've gotten a handle on it.
However, there is no cut and dry formula for how often you should moisturize and seal. Plus, depending on your products your hair may need more or less.
My go to rule is once a day for relaxed hair, especially when wearing my hair down. In order, to make sure my hair doesn't get too weighted down, I use a light watery moisturizing leave in and seal with a dime size amount of olive oil*.
So, how often should you moisturize your relaxed hair?
The answer lies a little in your hair's porosity and a lot in what is already in your regimen. Unfortunately for those of us with chemically treated manes our hair tends to be highly porous because relaxers are designed to make it that way.
This means moisture will get in, but it will also leave your hair just as easily. Fret not, there are things you can do to combat this eg Apple Cider Vinegar* rinses or Roux Porosity Control*.
Generally though, you should aim to moisturize your hair more rather than less, but take these things into consideration when deciding how often your hair needs moisturizing:
How is your hair styled?
Protective styling is called protective for a reason. Your hair is guarded from the elements, the detriment of too much manipulation and just left alone to breathe. As far as moisture is concerned, certain protective styles can even help you retain more of it.
For those styles that require your hair to be up and your ends tucked away the moisture gets to stay tucked in with your tresses. You may not have considered it, but there are so many ways that your hair can be stripped from moisture that are outside of your control. The air is stripping, your ends rubbing against clothes is stripping, you hair rubbing on the back of seats is stripping, anything really is stripping. Keep that in mind for your moisturizing routine.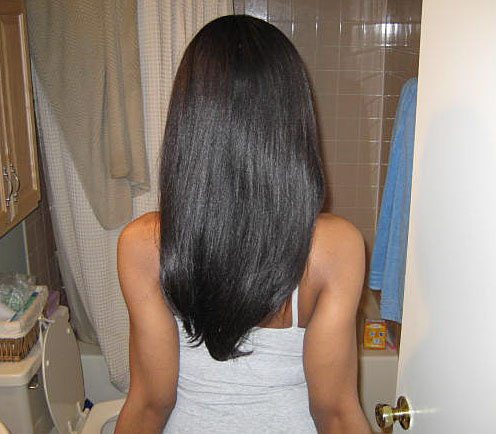 What's the weather like?
Although it is out of our control, it is extremely important to take the weather into account when considering your hair care. I have come across a lot of hair bloggers who have different regimens depending on what season it is to account for how the elements affect their hair.
Obviously the summer means more humidity (and sweating) so your hair may retain moisture better but at the same time the sun can be drying. Personally, I think the winter is worse for our strands.
The air is so dry that your hair has no choice but to suffer if you let it. Winter months mean heavier moisturizers and lots of sealing. It also means more moisturizing even in the case of protective styles. The air is really that harsh.
How long does your hair usually stay moisturized?
Here is where the "listen to your hair" part comes in. Obviously if your hair stays moisturized for two days at a time there's no need to moisturize daily. In order to know how often your hair stays moisturized, you need to know what moisturized hair feels like.
Basically you need to figure out how can you tell if your hair is moisturized. First, if your hair feels wet that does not mean it is moisturized. When it is properly moisturized your hair will absorb the moisture meaning it doesn't feel wet to the touch because the moisture has penetrated the strand. Your hair instead will feel soft, supple and strong.
This is a weird one, but you can also hear dry hair strands rubbing against each other. This is especially true when trying to comb out your hair. Lastly, moisturized hair generally looks and feels healthy. It is shiny and flexible and less apt to breakage. If your hair doesn't exhibit any of these "I'm moisturized" signs you should be moisturizing more frequently until it does.
How heavy are your products?
One of my biggest moisturizing nightmares is having weighted down limp hair because the product that I used is too heavy on my strands. This usually happens when I underestimate the potency of my moisturizer and apply it a little too liberally.
After a mistake like that the only two options are to wait it out or wash the hair and start over. Needless to say now I like to avoid using too much product. The point here is that it is important to understand how efficient your products actually are.
A light moisturizer may not have the lasting effect of heavier creams or butters* but it's also less likely to weigh your hair down. You may prefer to use a lighter product but moisturize more often instead of using a heavier product which may give your hair that instant greasy look!
So, when you're wondering how often you should be moisturizing your hair take a closer look at what products you're reaching for to get the job done.