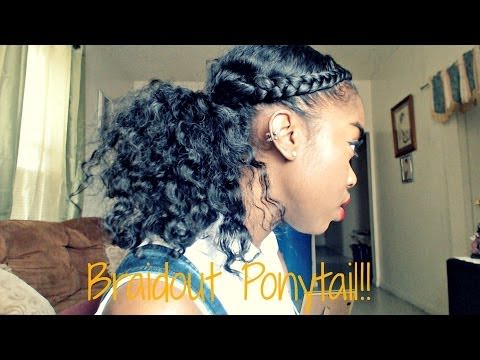 Okay y'all, so I have found another cute ponytail tutorial for natural hair and this one is just one of the cutest hairstyles ever! This style is done through French braiding, if you are not a huge fan of French braiding then you can also achieve this style through French Twists.
This is a great hairstyle for hanging out (dates, sports games. etc.) and also a great hairstyle for students, especially since we are at the end of the semester stretch. Below, Alley Sinai shows us how she achieves her Braid Out Ponytail!
Items Used To Achieve This Hairstyle
Moisturizer- In this tutorial, Alley Sinai used Cantu Coconut* Curling Cream but you can use any thick and creamy hair moisturizer that you prefer.
Gel – In the tutorial, Alley Sinai uses Eco Styler* Olive Oil* Gel , but you can use any gel that you would prefer. Some ladies also use curl activator gel for extra moisture.
Spritz– The spritz used in this tutorial is plain ole' water, but you can also choose to use any spritz that you prefer.
Perm Rods*– 3/4 inch perm rods*(the pink ones) are used to curl the ends of the French braids. You can also choose to use any size perm rods* that you prefer.
Elastic Ponytail Holder– The Elastic Ponytail holder is used to hold the braidout ponytail in place. Try using an elastic ponytail holder without metal to prevent hair damage.
Length Needed To Achieve This Style This style works on any hair that is medium length and longer. Ladies with shorter hair can modify this hairstyle as well. This hairstyle is done on stretched hair which you can achieve via banding, twists, African threading, braids, banding, etc. This is also a great hairstyle for relaxed and transitioning ladies as well!
In the video below, Alley Sinai (love her name!) shows us how she achieves her beautiful Braid Out Ponytail!