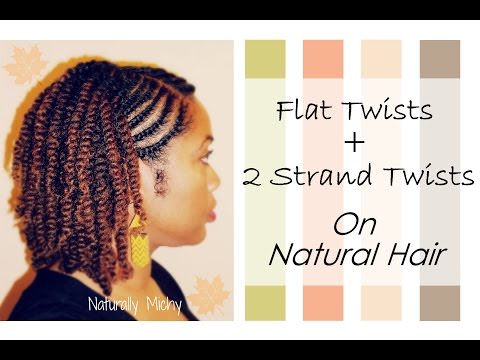 To me, styles that involve twists, braids, cornrows, etc., are great styles to wear during the colder months. Why? Well, as we all know these months coming up can be cold, dry , and windy. Three elements that can have our hair screaming for mercy. But braided styles keep the moisture in by protecting your hair from the harsh environment.
In the video below, Millicent Swift aka Naturally Michy shows how she creates her 2 Strand Twists with flat twists. The style is done on hair that is freshly cleaned, moisturized, and well hydrated. Just doing this step can give you better style results and easier execution.
Items Used To Achieve This Hairstyle
Moisturizer- Cantu Shea Butter* Leave In Conditioner is used as the moisturizer in this video, but you can choose to use any moisturizer that makes your hair feel great
Gel– Eco Styler* Olive Oil* Gel or any gel that you prefer
Rattail Comb*- To create clean and even parts
Water (Optional)– To refresh your hair.
Length Needed To Achieve This Style
This style works on any hair length that is 3 inches and over. If your hair is not as full or as long as you would like it to be for this particular hairstyle, than you can always add in hair extensions*, such as Marley or Cuban Twist hair.
You want to make sure your hair is detangled or semi detangles so stretching your hair before is a great idea. You can stretch your hair via banding, bantu knots, braids, etc.
In addition to being a cool protective style it can be a great transitioning hair style as well however we would suggest adding perm rods* to your relaxed ends to give your hair some pizazz. Check out the video below where Millicent Swift shows us how she creates her 2 Strand Twists with Flat Twists hairstyle!