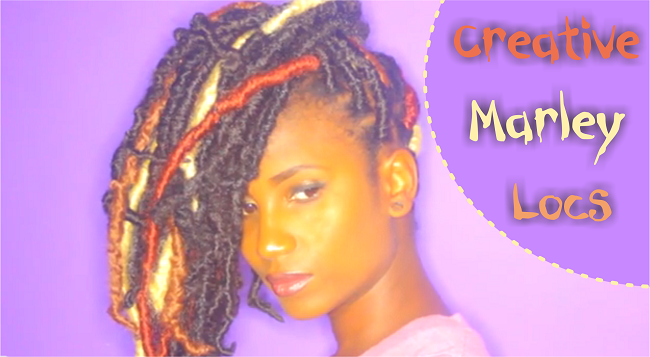 Prepare yourself for a seriously cute, creative and sexy protective style. Forgive me because I am totally biased I have a thing for locs and anything that looks remotely like locs.
I watched this video by It's Sharde all the while thinking she looks amazing with those colors in her hair are very daring yet I understand it completely. Why in the world would you not add color? She looks amazing!
As with most protective styles you have to make sure your hair is all of the following beforehand:
1. Washed – It is always better to have your hair clean and free of any buildup from previous products and dirt. Not to mention clean hair is easier to manipulate.
2. Conditioned – Moisture is very important especially if you plan to wear the style long term. With that said deep condition your hair after you wash it just so that it can sustain itself while protected.
3. Sealed – Adding moisture is almost pointless depending on your porosity if you are not sealing your hair. Use a light oil to seal your hair or a heavy one depending on your preference. The loc style protects your hair very well so you can afford to load up on the moisture and sealants if you want to.
4. Stretched – Stretching the hair prior to adding the Marley hair makes things super easy for you. You can use the tension blow-dry method to stretch the hair quickly while avoiding damage.
A few tips on the style
Purchase enough hair – Sharde noted in the comment section of the video that she used exactly four packs of brown (primary color) and one pack of each secondary color, which was seven packs total. There is nothing more annoying than starting your protective style and then having to run to the store because you did not get enough.
Get creative with styles – We loved that there were styling options in the video because quite often we do not realize the versatility with some of the protective styles that we choose. Get on the Tube and find videos for ideas, so that you truly enjoy the protective style for the time that you have it.
Scalp maintenance is key – Cleanse the scalp using Witch Hazel or Apple Cider vinegar, it is not recommended to wash the hair itself because it unravels so easily. Don't worry about the hair so much but focus your attention on the scalp.
Check out the video tutorial below: