I absolutely love Uzo Aduba, I mean who doesn't love the lady that coined the song "Chocolate and Vanilla* Swiiiirrrll"! Ok I am getting a little carried away and this isn't about Crazy Eyes or Orange is the New Black. This is about Uzo and her fabulous fro that she has been rocking lately.
Uzo is often seen on the red carpet or at formal events rocking straight hair while her beautiful natural hair is hidden and protected.
Well at a few recent events she has been seen looking just a little bit different. She has ditched the straight styles for now and replaced them with a voluminous fro.
Here she is at the Toronto Film Festival:

This was her caption:
Oh what a night. Last night I attended my first film festival and what an awesome time!! Thank you #Toronto Film Festival for screening American Pastoral. It was a true joy being a part of this piece and this exciting, resonant story. Thank you, @mcgregor_ewan for having me; this company of artists are thrilling in their talent. Thanks also to @cristinaehrlich @janicekinjo @lacyredway @nailcouturekk @lsbecky @patrickconeil and @teamid for helping to put me together last night, radiating light, and for making such a special night even more beautiful. All the love. xxoU #myfirstfestival #funtimes #funnights
Then she blessed Instagram with this dope picture: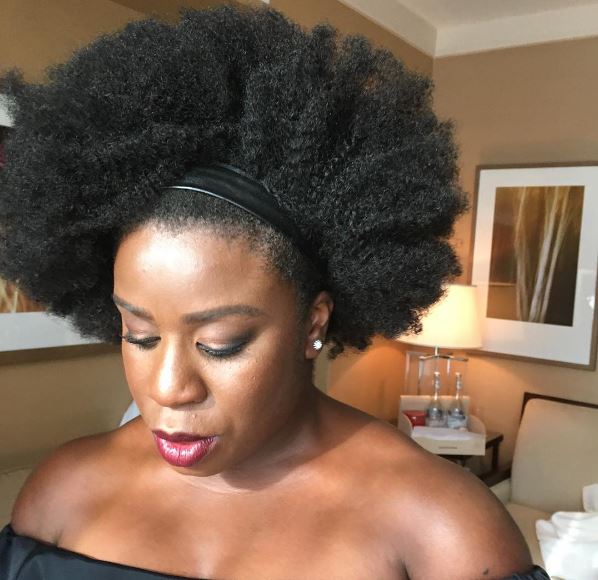 Did you know that the bantu knots that Suzanne wears on OITB is because Aduba used to style her hair just like that and it came to life because of how she styled her hair at the very first audition
Via Refinery:
"I used to wear my hair in the Bantu knots," Aduba told Refinery29. "I was doing a show right before Orange, and I was wearing my hair like that and then I had the idea to wear it to the audition.

I thought that since the show is set in prison anyway, the knots work, and I didn't think anything of it. I used to wear them [in real life], but I had to stop wearing them because that attention as Suzanne made me want to stop. I take them out when we finish shooting."
When you decide to just be yourself magic happens!