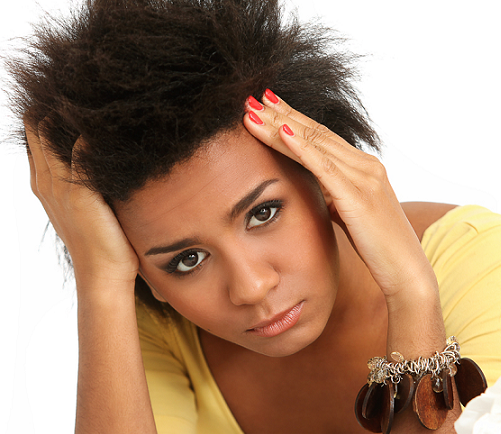 Over processing is a disastrous experience. I have been through it on more than one occasion. I have done it to myself while maintaining my hair at home and I have also had a licensed stylist over process my hair while applying a relaxer.
There are a few things to remember when dealing with over processed hair. One, recovering is a long and tedious process that will be made worse if you try to cut corners. Two, it can happen even when you have been as careful as you're expected to be. Three, this too shall pass.
Over processing occurs when the strands of the hair have been, well, over processed. A chemical process such as relaxing or color treating hair takes a toll on the hair. Even the healthiest head of relaxed hair is technically damaged.
Color has a similar effect on hair as relaxers. Although they're not exactly the same, relaxing and coloring are the most common ways black hair is chemically treated. Both processes break down the hair and weaken the strands. With each application, the strands become progressively more weak.
The issue of over processing comes into play when chemicals are applied to portions of your hair that have been previously processed. This is the why one of the main issues with applying relaxer at home is the prevention of overlapping. To prevent overlapping and subsequent over processing, chemicals should be applied only to the portions of hair that are free of prior chemical treatment.
Because of the obvious physical constraints that come into play when self-relaxing, the problem of over processing is most prevalent with 'box-perms' applied at home. There are also women who have short relaxed hair who are at risk for over processing as well.
Short relaxed hair can be tricky to retouch safely. The hair is usually relaxed more frequently because the new growth is more apparent. And the sections of hair that need retouching are very short from root to the line of demarcation.
So, what can you do when your hair has been over processed?
The one most important thing to do is to be realistic about the situation. Many times we get caught up into believing that over processed hair can be cured or reversed.
The plain truth of the matter is that, that is simply not true. You have to grow new, healthy hair to replace the damaged hair.
Don't be totally discouraged, because there are things that you can do to get yourself back to a healthy head of hair.