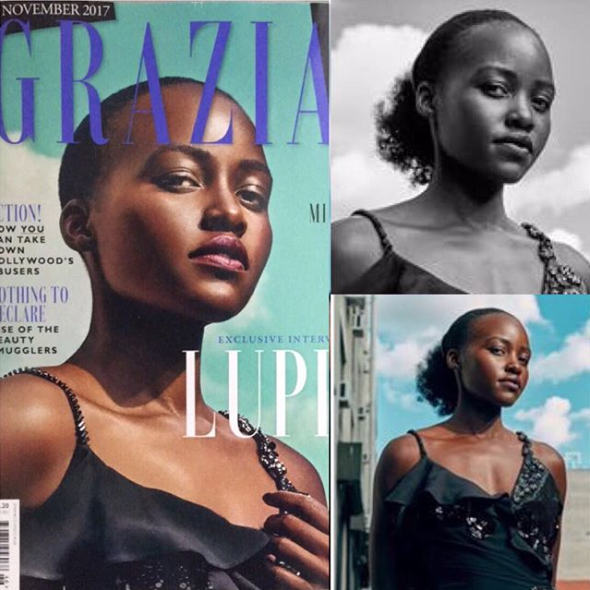 Lupita Nyongo has been the latest celebrity to fall victim to an advocate for Eurocentric ideals. Someone decided that her natural puff wasn't aesthetically appealing enough to grace the cover of a magazine. Wasn't it just a week or two ago that Solange Knowles hit out against a UK magazine for taking liberties with her elaborately styled hair in a similar fashion?
Well in this latest episode, UK-based Grazia magazine was blasted by Lupita for removing part of her hair from the cover of their November issue. To prove her case, Lupita posted the magazine cover that shows her sporting what looks like the days of her big chop, alongside the actual image she took for the magazine, which shows her hair pulled back in a low afro puff.
Notice that she ended her quote like Solange with #dtmh? Dont touch my hair.
Diversity Really is Just a By-word to Some People
In response, the magazine issued an apology (This is getting to be redundant and somewhat of a cliche if you ask me) and added that they " committed to representing diversity. They tried to distance themselves further by saying they didn't give make any editorial request nor gave permission for the photographer to omit Lupita's textured puff.
They claimed they should have performed their due diligence to ensure that they were aware of all alterations (As though we should believe that they would publish without ensuring that they gave it a pass).
Seriously though, they need to stop with the pretense. How do you just send something out without ensuring that you give it the stamp of approval? The backpedaling tactics are ridiculous. I've never been able to understand how they could think that such a statement could make for a plausible excuse.
They must think black people are incredibly dumb. How do you just photoshop someone's hair from their head and then go 'oops, my bad, but I have nothing to do with that because I didn't know about it'? Really? I am starting to think that this is a publicity stunt. It has been happening far too frequently.
Obviously, someone thought she would make for a great front cover and they would have done their research and would be privy to the fact that she is a black woman who proudly sports her natural hair and wears her heritage about her like a second skin. For this reason, it boggles the mind that they would ask her to pose then try to erase parts of her to suit themselves.
Either it's a way for them to stir up enough of a murmur for people to visit their pages (cause honestly, before this I didn't know who they were), or it's their version of market research to see how black folks react to something. Who knows, maybe it's entertaining for them to see how bothered we get about these things.
On the other hand, it could be a declaration (albeit implicit) that they stand firmly behind Eurocentric ideals because in their own twisted realities it's good for business.
We Still Have Many Rivers to Cross
How disrespectful of them. They have no qualms copying our style, studying our ingenuity only to re-brand it as their own, but God forbid if we should feel comfortable enough to flex our natural hair and melanin-rich skin. Lupita's hair is a symbol of her heritage, and it's a majestic one. In every culture hair features as an important identifier and for someone to just mess with it speaks volumes about how little they value the view black people.
All I know is that the features of black people have been pocked, prodded and disregarded by those who uphold Eurocentric ideals. When they are not body shaming black women for being well endowed with curves, they are having a fit that we would dare to wear an afro or any hairstyle that looks to have even a remotely African influence, they get a little uncomfortable.
They've made everything about being black a crime. Natural afro textured hair continues to be the Cinderella in this beauty industry. For a long time, we were starved for representation of our natural features. Though there are more stars embracing afrocentric beauty and the natural hair community has grown tremendously to the point that it has helped to influence the toppling of laws which sought to diminish natural our hair, there is still a far way to grow. There are those who insist on sidelining us based on our natural features.
Final Thoughts
Many of us clamor for inclusivity, which is the ideal because of skin tones or melanin levels aside, we're all people just like they are. The thing is, I think while it is good to be optimistic we need to be realistic and stop thinking that we are anywhere close to being accepted because we see celebrities gracing the page of magazines or splashed all over the media.
During slavery, we were used for entertainment but that didn't cause them to see us worthy of being treated with respect. There are those who will continue to exploit us, mess with the image of our likeness when it is convenient to them so that they can lure us in to support their products and services, but they will never really give us a seat at the table without ulterior motives.
It is evident that there will be many more of these instances. There are those who don't mind seeing our natural hair but for the most part, there is an underlying systemic prejudice against natural hair and black skin.
We must continue to reject their belittling of us, but we must not let on that we need them to affirm or validate us. We must not give them the impression that we see our beauty through their eyes. If we are to be Cinderella's, let us do so with our dignity intact, for in the end, Cinderella will be queenin'.
SaveSave
SaveSaveSaveSave
SaveSave