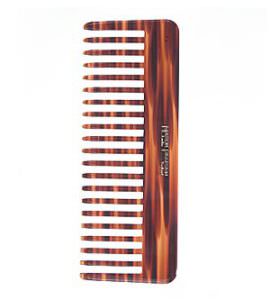 3. High Quality Seamless Combs*: After reading a review from a transitioning blogger, I decided to purchase three combs from Hercules-Sagemann even though throughout the entire checkout process I was thinking "These combs are extremely overpriced!"
It was a splurge that I thought I would regret…but am happy to report I was completely wrong! I see so much less breakage with these combs and detangling and styling is a breeze!
If you are not able to find these particular combs then any high quality polished seamless combs will also make a big difference in your breakage.
4. Professional Hair Shears: I always snagged a pair of inexpensive scissors at the counter of my local BSS or the Conair ones available in Wal-Mart.
I honestly thought the most important thing was to have scissors that were designated for hair only, and that the price and quality of hair shears did not really matter.
Recently I decided to dust my hair monthly so I purchased a pair of $30 shears from Sally's Beauty Supply. With the first cut, I noticed a huge difference!
They were so much more precise, with neater and cleaner results! I can almost guarantee that overtime, my hair will retain more length because my ends are healthier.
5. Twist Turbans: I know this item seemed silly to me when I first saw the infomercial for the popular terrycloth hair towel. Like all infomercials it was offered at $19.95 + shipping/handling.
I laughed thinking that I could achieve the same results with a regular towel twisted around my hair. After the Twist Turban trickled down into the retail and finally the discount stores…I bought a set.
Well, this simple little invention was well worth the $5 I spent. The terrycloth is extra absorbent and because it is specifically made for wrapping hair, you don't have the extra weight that a full sized towel gives. I've also bought cheap knockoffs at the dollar store and the fabric is not nearly as soft nor does it absorb as well as the real thing.
Final Thoughts
It's quite easy to find discount versions of expensive products that may be able to do as good a job as the original. Your decisions will probably depend of whether you are natural or relaxed, heat free or a heat freak or of course how often you style your hair but all in all you have to decide for yourself what you consider to be an upgrade that is worth the extra money.