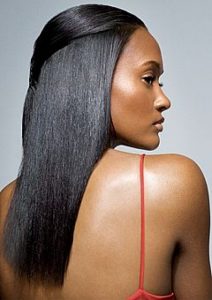 How it happpens
When a chemical is applied to the hair, it is important to ensure that the application is even. Even application means that each section of hair receives an equal amount of product, manipulation, and processing time.
Keep in mind that one section of hair can easily be processed longer than another because the application begins on one side of the head and in one section. The first section where the relaxer was applied will always have product sit on it longer than the last section.
This is why some stylists may rinse out a particular section of relaxer, while allowing another section to continue to process. Techniques like this prevent over and under processing when done correctly.
Not smoothing a relaxer evenly throughout each section of hair is the easiest way for under processing to occur. Even parting and a consistent application and smoothing technique really do matter. These are some of the reasons at home relaxing is discouraged by professionals. There is more to it than simply slathering product all over the hair.
Equal amounts of product on every section of the hair is another thing to look out for. Too little product in one area and too much in a different area, will result in one section being less processed than another. Assessing the hair before the application process begins is key. Knowing how much regrowth is present and how much product is needed to straighten it, matters.
Hair type also plays a role, as some courser hair types may require more product and additional processing time.
What to do if your hair is underprocessed
Corrective relaxers are an option if your hair has been under processed. This is a very tricky solution, however, as the risk of overlapping and over processing the already relaxed sections is extremely high. Professionals should be sought out to correct under processing in this way.
If the under processing is not too obvious, you may choose to simply work with the different texture until it is time for your next chemical process. At that time, you could correct the mistake by paying particular attention to the area of hair that was not fully processed in the prior application.
The best advice is to try and take precautions to avoid under processing to begin with.